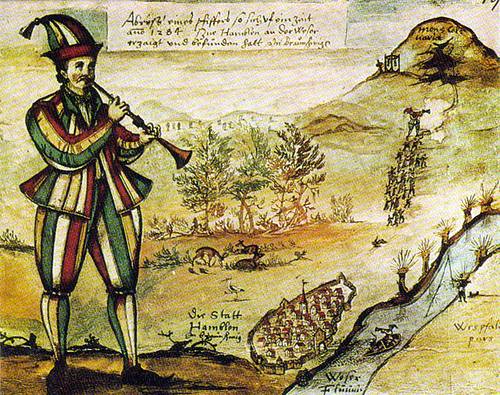 The pied piper is not just a fairy tale. Something specific and terrible appears to have happened in the German town of Hamelin on June 26, 1284. What it was is uncertain, but it seems to have claimed the town's children, perhaps in a mass drowning, burial, epidemic or exodus. An inscription from 1603 reads:
Anno 1284 am dage Johannis et Pauli
war der 26. junii
Dorch einen piper mit allerlei farve bekledet
gewesen CXXX kinder verledet binnen Hamelen gebo[re]n
to calvarie bi den koppen verloren
In the year of 1284, on John's and Paul's day
was the 26th of June
By a piper, dressed in all kinds of colors,
130 children born in Hamelin were seduced
and lost at the place of execution near the Koppen.
Rats weren't added to the story until the late 16th century. The site of the children's disappearance, on Coppenbrugge mountain, is now a site of pagan worship, and a law forbids singing and music in one street of Hamelin, out of respect for the victims … though we may never know what their fate was.