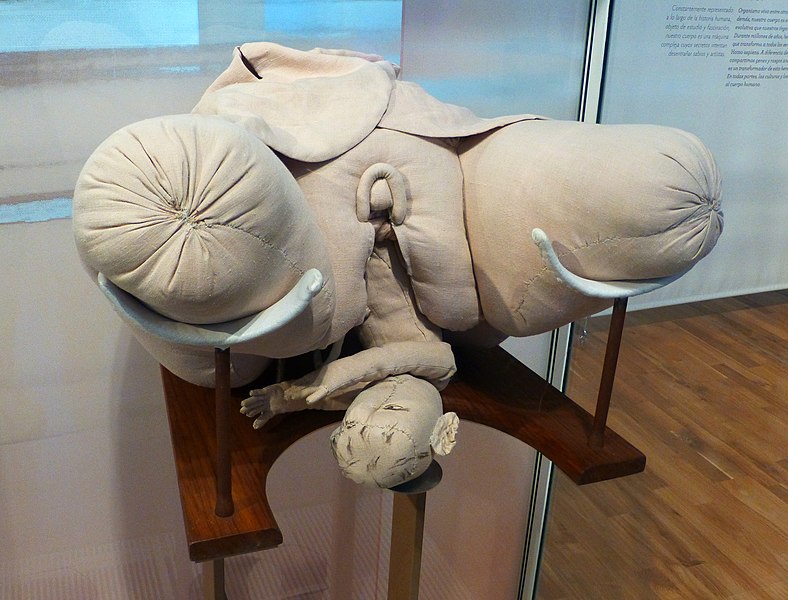 The first life-size obstetrical mannequin was invented by French midwife Angélique du Coudray, who was using it to demonstrate the process of childbirth as early as 1756:
I announced that I would gladly give my advice to poor women who needed it. … I took the tack of making my lessons palpable by having them maneuver in front of me on a machine I constructed for this purpose, and which represented the pelvis of a woman, the womb, its opening, its ligaments, the conduit called the vagina, the bladder and rectum intestine.
The upholstered model included a womb and an extractable baby doll with which her students could practice. The skin and soft organs were made of flesh-colored linen and leather stuffed with padding, and some of the bones were assembled from real skeletons, though wood and wicker later took their place.
"The model is meant mostly for maneuvers that, as others confirm, allow her students to gain confidence, be 'encouraged, and succeed perfectly,'" writes Nina Rattner Gelbart in The King's Midwife (1998). "Delivering babies from every conceivable position and presentation will prepare her students for all eventualities. … This machine, as the midwife's followers will continue to testify, makes an 'impression that can never be erased,' 'an advantage all the more essential because this class of surgeons and these women [of the countryside] do not have the resource of reading … [so] these daily continual maneuvers … [must be] vividly impressed on their senses.'"