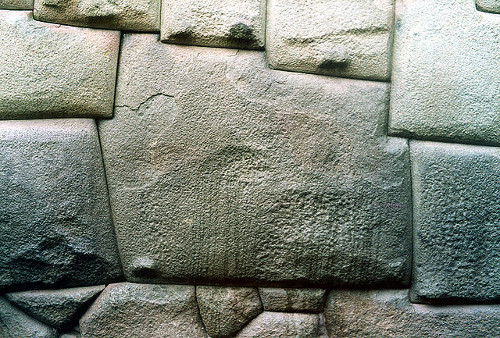 Midway along the northwestern face of a monumental Inca building at 410 Calle Hatunrumiyoc in Cusco is a large irregular block of stone worked by a master mason in the era before Columbus. Fitted into place without mortar despite its complex shape, the "twelve-angled stone" has become a hallmark of Inca craftsmanship.
"Just as individual blocks were prepared, so too were the adjoining stones already set in the wall," notes Southern Methodist University art historian Adam Herring. "In order to receive a new block, bedding planes were carved into those stones below or to the side of the block to be added. This is how the Twelve-Angled Stone took on its busy upper outline; the upper portions of the block were recarved several times over as five blocks — set in a left to right sequence — were fitted along the course above. Other blocks in the wall were similarly shaped, then reshaped as new blocks were added to the masonry mass. As stones of irregular size and degree of finish were inserted into the mural fabric with fastidious technical consistency, the wall went up as tectonic sculpture."
Pablo Neruda remarked on the "rocky petals" that distinguish this style of architecture; Che Guevara called it "an enigma in stone." The mason who left this hallmark was a master of this craft, but his identity is unknown.
(Adam Herring, "Shimmering Foundation: The Twelve-Angled Stone of Inca Cusco," Critical Inquiry, Autumn 2010.)