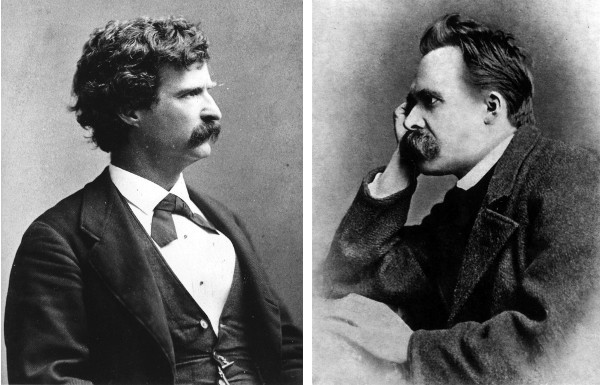 Mark Twain was an early proponent of the typewriter — in 1905 he claimed that "I was the first person in the world to apply the type-machine to literature. That book must have been The Adventures of Tom Sawyer."
Actually the evidence shows that Life on the Mississippi was the first book submitted to a publisher as a typewritten manuscript, which means that Twain had a surprising competitor in Friedrich Nietzsche, who tried out a Hansen Schreibkugel, or "writing ball," for a few weeks in 1882, hoping to reduce demands on his failing eyesight.
"Hurrah! The machine has arrived at my house," Nietzsche wrote to his sister on February 11. He typed poetically:
THE WRITING BALL IS A THING LIKE ME:
MADE OF IRON YET EASILY TWISTED ON JOURNEYS.
PATIENCE AND TACT ARE REQUIRED IN ABUNDANCE
AS WELL AS FINE FINGERS TO USE US.
Unfortunately he found his fingers weren't fine enough, and he gave it up in March. Twain submitted his manuscript a few months later.