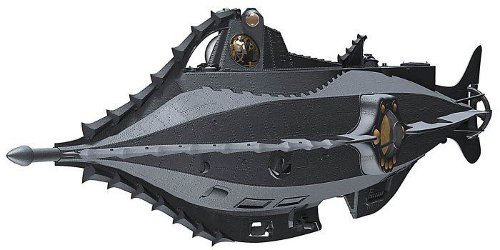 Inspired by Jules Verne's Twenty Thousand Leagues Under the Sea, marine engineer Simon Lake devoted himself to making a working practical submarine. In 1898, when his company built the first sub to operate successfully in the open sea, Verne sent a congratulatory telegram:
WHILE MY BOOK 'TWENTY THOUSAND LEAGUES UNDER THE SEA' IS ENTIRELY A WORK OF IMAGINATION, MY CONVICTION IS THAT ALL I SAID IN IT WILL COME TO PASS. A THOUSAND MILE VOYAGE IN THE BALTIMORE SUBMARINE BOAT IS EVIDENCE OF THIS. THIS CONSPICUOUS SUCCESS OF SUBMARINE NAVIGATION IN THE UNITED STATES WILL PUSH ON UNDER-WATER NAVIGATION ALL OVER THE WORLD. IF SUCH A SUCCESSFUL TEST HAD COME A FEW MONTHS EARLIER IT MIGHT HAVE PLAYED A GREAT PART IN THE WAR JUST CLOSED. THE NEXT GREAT WAR MAY BE LARGELY A CONTEST BETWEEN SUBMARINE BOATS.
Bonus fact: The "20,000 leagues" in Verne's title refers to the distance of the Nautilus' voyage, not its depth. The sea is only about 2 miles deep; 20,000 leagues is nearly 70,000 miles.