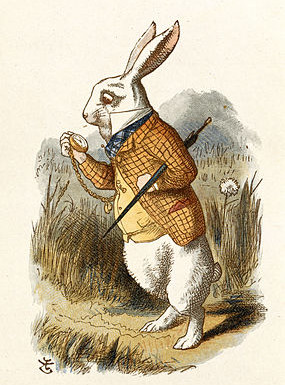 Here's the opening of Alice's Adventures in Wonderland:
Alice was beginning to get very tired of sitting by her sister on the bank, and of having nothing to do; once or twice she had peeped into the book her sister was reading.
Choose any of the first 12 words and tap your way forward in the sentence from that point, tapping one word for each letter. So, for example, if you choose the word Alice, which has five letters, you'd tap was, beginning, to, get, and land on very. Then do the same thing with that word, advancing four letters to land on by. If you keep this up you'll always arrive at the word sister.
That's from Martin Gardner; the same trick works with "Twinkle, Twinkle, Little Star," the opening of the Bible, and countless other texts.
It's less surprising than it seems — it's based on a principle called the Kruskal count, proffered originally by Rutgers physicist Martin Kruskal as a card trick. In each case various tributaries merge into a common stream that arrives at a predictable destination. Here's an analysis (PDF).