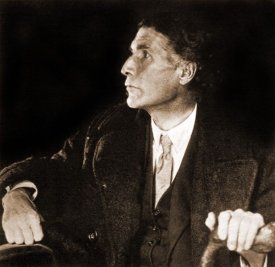 [Theodore] Dreiser said that when he was living in New York, on West Fifty-seventh Street, John Cowper Powys came occasionally to dinner. At that time Powys was living in this country, in a little town about thirty miles up the Hudson, and he usually left Dreiser's place fairly early to catch a train to take him home. One evening, after a rather long after-dinner conversation, Powys looked at his watch and said hurriedly that he had no idea it was so late, and he would have to go at once or miss his train. Dreiser helped him on with his overcoat, and Powys, on his way to the door, said, ' I'll appear before you, right here, later this evening. You'll see me.'

'Are you going to turn yourself into a ghost, or have you a key to the door?' Dreiser laughed when he asked that question, for he did not believe for an instant that Powys meant to be taken seriously.

'I don't know,' said Powys. ' I may return as a spirit or in some other astral form.'

Dreiser said that there had been no discussion whatever during the evening, of spirits, ghosts or visions. The talk had been mainly about American publishers and their methods. He said that he gave no further thought to Powys's promise to reappear, but he sat up reading for about two hours, all alone. Then he looked up from his book and saw Powys standing in the doorway between the entrance hall and the living room. The apparation had Powys's features, his tall stature, loose tweed garments and general appearance, but a pale white glow shone from the figure. Dreiser rose at once, and strode towards the ghost, or whatever it was, saying, 'Well, you've kept your word, John. You're here. Come on in and tell me how you did it.' The apparation did not reply, and it vanished when Dreiser was within three feet of it.

As soon as he had recovered somewhat from his astonishment Dreiser picked up the telephone and called John Cowper Powy's house in the country. Powys came to the phone, and Dreiser recognized his voice. After he had heard the story of the apparation, Powys said, 'I told you I'd be there, and you oughtn't to be surprised.' Dreiser told me that he was never able to get any explanation from Powys, who refused to discuss the matter from any standpoint.
— W.E. Woodward, The Gift of Life, 1947