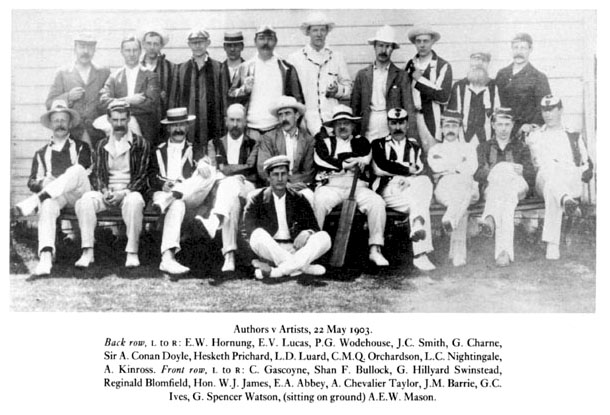 When J.M. Barrie organized his friends into an amateur cricket team in 1887, his selections weren't based on literary eminence — "With regard to the married men, it was because I liked their wives, with regard to the single men, it was for the oddity of their personal appearance." But the team managed to include some of the most celebrated British writers of the day, including Arthur Conan Doyle, Rudyard Kipling, H.G. Wells, A.A. Milne, G.K. Chesterton, Jerome K. Jerome, P.G. Wodehouse, E.V. Lucas, and E.W. Hornung.
It wasn't until they assembled for their first game that the Allahakberries (Barrie thought Allahu Akbar meant "Heaven help us") realized the extent of their ignorance — geologist Joseph Thomson arrived wearing pajamas rather than cricket whites, and an argument arose over which side of the bat to use in hitting the ball.
Generally Barrie found that the more distinguished a writer was, "the worse they played." (The exception was Doyle, whom Barrie described as "A grand bowler. Knows a batsman's weakness by the colour of the mud on his shoes.") Eventually he wrote a book of advice for the team, in which he asked them not practice before matches, since it would only give their opponents confidence, and advised "Should you hit the ball, run at once. Do not stop to cheer."
Sadly, the war ended the team's career. Barrie wrote in his diary, "The Last Cricket Match. One or two days before war declared — my anxiety and premonition — boys gaily playing cricket at Auch, seen from my window. I know they're to suffer. I see them dropping out one by one, fewer and fewer." He was right — in fact, one of the casualties was George Llewelyn Davies, who had helped to inspire Peter Pan.