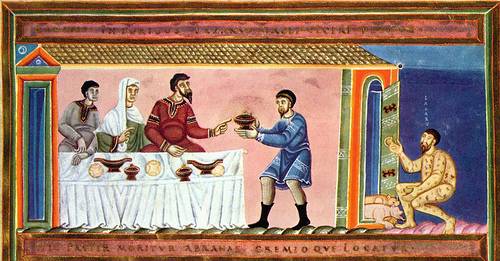 The Gospel of Luke contains a parable about a rich man and a beggar. Both men die, and the rich man is consigned to hell while the beggar is received into the bosom of Abraham. The rich man pleads for mercy, but Abraham tells him that in his lifetime he received good things and the beggar evil things: "now he is comforted and thou art tormented." The rich man then begs that his brothers be warned of what lies in store for them, but Abraham rejects this plea as well, saying, "If they hear not Moses and the prophets, neither will they be persuaded though one rose from the dead."
Now, writes E.V. Milner:
Suppose … that this last request of Dives had been granted; suppose, in fact, that some means were found to convince the living, whether rich men or beggars, that 'justice would be done' in a future life, then, it seems to me, an interesting paradox would emerge. For if I knew that the unhappiness which I suffer in this world would be recompensed by eternal bliss in the next world, then I should be happy in this world. But being happy in this world I should fail to qualify, so to speak, for happiness in the next world. Therefore, if there were such a recompense awaiting me, its existence would seem to entail that I should at least be not wholly convinced of its existence.
"Put epigrammatically, it would appear that the proposition 'Justice will be done' can only be true for one who believes it to be false. For one who believes it to be true justice is being done already."