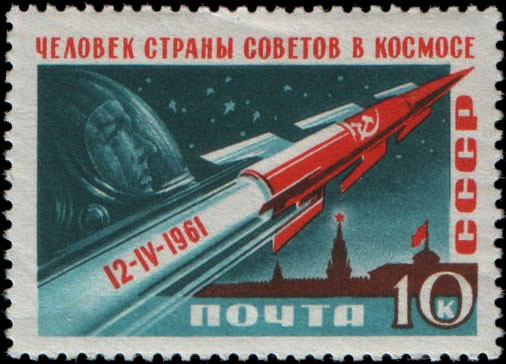 On April 12, 1961, witnesses saw a spaceship enter Earth's atmosphere and descend to the ground in a ploughed field in the Leninsky Put Collective Farm near the Soviet village of Smelovka. At a height of 7 kilometers, a spaceman left the ship and drifted to earth on a parachute. The spaceman later reported:
As I stepped on the firm soil, I saw a woman and a girl. They were standing beside a spotted calf and gazing at me with curiosity. I started walking towards them and they began walking towards me. But the nearer they got to me the slower their steps became. I was still wearing my flaming orange spacesuit and they were probably frightened by it. They had never seen anything like it before.

'I'm a Russian, comrades. I'm a Russian,' I shouted, taking off my helmet.

The woman was Anna Takhtarova, wife of the local forester, and the girl, Rita, was her granddaughter.

'Have you really come from outer space?' she asked a little uncertainly.

'Just imagine, I certainly have,' I replied.
He was Yuri Gagarin, and the site would soon receive a permanent monument marking the landing place of Vostok-1.