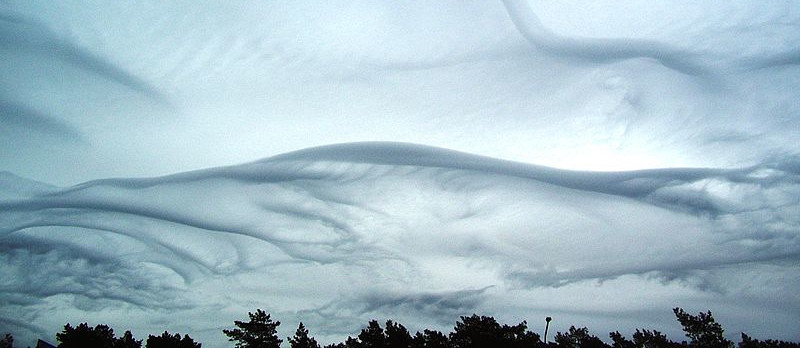 In June 2006, Iowa paralegal Jane Wiggins looked out the window of her Cedar Rapids office and saw a cloud unlike any she'd seen before. "It looked like Armageddon," she told the Associated Press. "The shadows of the clouds, the lights and the darks, and the greenish-yellow backdrop. They seemed to change."
Wiggins sent a photo to the Cloud Appreciation Society, a weather-watching group founded by Gavin Pretor-Pinney, author of The Cloudspotter's Guide. Other sightings were registered around the world (this one appeared over Tallinn, Estonia), and eventually Pretor-Pinney nominated it as an entirely new type.
The 2017 edition of the World Meteorological Organisation's International Cloud Atlas included asperitas in a supplementary feature. The name is Latin for "roughen" or "agitate" — "not necessarily gentle or steady, but quite violent-looking, turbulent, almost twisted in its appearance," Pretor-Pinney said.
It's not new, really — such clouds have always been up there — but it's the first formation added to the atlas since 1951. "We like to believe that just about everything that can be seen has been," Society executive director Paul Hardaker said. "But you do get caught once in a while with the odd, new, interesting thing."