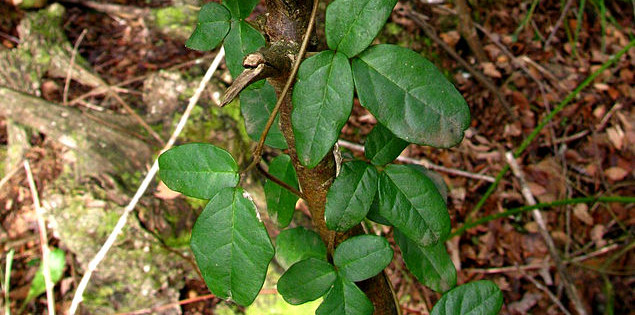 Native to Chile and Argentina, Boquila trifoliolata has a remarkable ability: Once it's wrapped its vines around a host plant, it can alter its leaves to mimic those of the host, a phenomenon called mimetic polymorphism.
"It modifies its size, shape, color, orientation, and even the pattern of its veins in such a way that it fuses perfectly with the foliage of the tree that bears it," writes botanist Francis Hallé in his 2018 Atlas of Poetic Botany. "If, in the course of growing, it changes its support, the same stalk can even display leaves that are completely different, corresponding to the new tree — even if these leaves are much bigger."
This helps it to avoid predators. If the plant grew along the forest floor it would be eaten by weevils, snails, and leaf beetles, but these tend to leave it alone when it disguises itself with "tree leaves." But how it accomplishes the mimicry remains unclear.