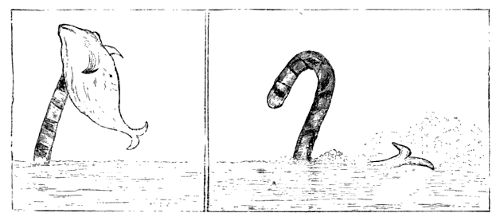 From the London Graphic, July 19, 1879, a sketch and statement by Capt. Davison of the steamship Kiushiu maru:
Saturday, April 5, at 11.15 a.m., Cape Satano [Japan] distant about nine miles, the chief officer and myself observed a whale jump clear out of the sea, about a quarter of a mile away. Shortly after it leaped out again, when I saw that there was something attached to it. Got glasses, and on the next leap distinctly saw something holding on to the belly of the whale. The latter gave one more spring clear of the water, and myself and chief then observed what appeared to be a large creature of the snake species rear itself about thirty feet out of the water. It appeared to be about the thickness of a junk's mast, and after standing about ten seconds in an erect position, it descended into the water, the upper end going first. With my glasses I made out the colour of the beast to resemble that of a pilot fish.
Davison's statement was countersigned by his chief officer, Mr. McKechnie. This is the third account I know of a fight between a whale and a sea serpent; the others occurred in 1818 and 1875. The whales seem to lose every time. I'm going to award the crown to the serpents and maybe we can avoid any further hostilities.