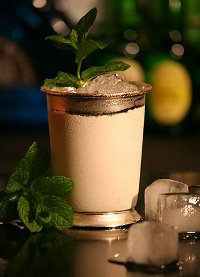 On June 1, 1873, during a visit to New College, Oxford, South Carolina planter William Heyward Trapier asked for a mint julep, "to the utter bewilderment of the butler," according to the Oxford Companion to the Year.
When his hosts confessed their ignorance of the American drink, Trapier gave them his family recipe, a silver pot in which to share it, and instructions to prepare it every year on the anniversary of his visit. Thereafter it became a college tradition to substitute juleps for the after-dinner port on June 1 each year, and to leave a place empty for Trapier.
This continued for a century, but apparently the tradition died out during World War II. But there's good news — Oxford's student newspaper now says that the college has approved a Mint Julep Quartermaster to start it up again.
Here's the recipe that Trapier gave to the college, according to the Oxford Times:
Crush two sprigs of mint and half a teaspoon of sugar in the bottom of a tall glass.
Add two lumps of ice and cover with Bourbon whiskey.
Fill the glass with cracked ice and chill for several hours before drinking.