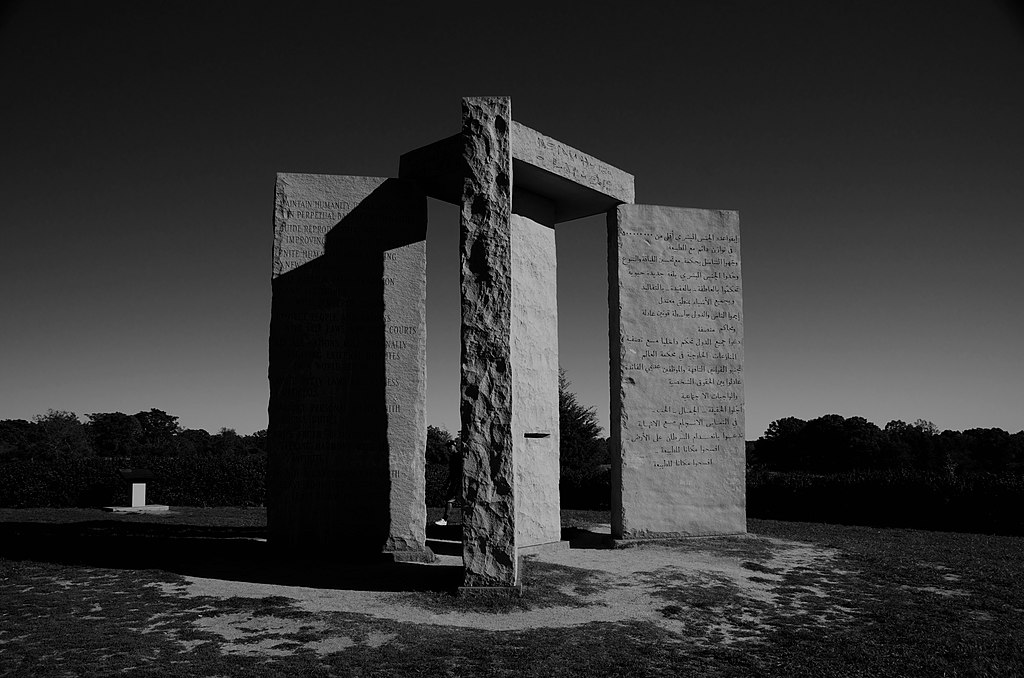 In Elbert County, Georgia, stands a granite monument bearing 10 guidelines inscribed in eight languages:
Maintain humanity under 500,000,000 in perpetual balance with nature.
Guide reproduction wisely — improving fitness and diversity.
Unite humanity with a living new language.
Rule passion — faith — tradition — and all things with tempered reason.
Protect people and nations with fair laws and just courts.
Let all nations rule internally resolving external disputes in a world court.
Avoid petty laws and useless officials.
Balance personal rights with social duties.
Prize truth — beauty — love — seeking harmony with the infinite.
Be not a cancer on the earth — Leave room for nature — Leave room for nature.
It was commissioned in 1979 by a man using the pseudonym Robert C. Christian, who seemed to have considerable resources. A ledger nearby explains that the structure operates as an astronomical calendar and that a time capsule lies 6 feet beneath.
It's thought that the inscription lists the principles that will be needed to rebuild a devastated civilization. A tablet reads, "Let these be guidestones to an Age of Reason."