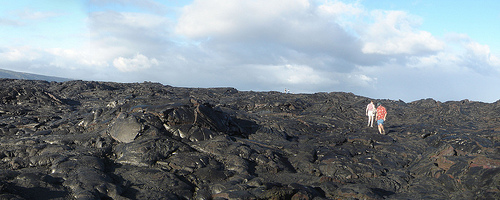 Every year, thousands of tourists pass through Hawaii Volcanoes National Park, and many collect sand or rocks as souvenirs. And every year, thousands of people mail them back, reporting mysterious misfortunes:
"Please return to soil. I have been having bad luck."
"Ever since we have taken items, we have had nothing but back luck and medical problems. We apologize for taking items, so we are returning same to Hawaii."
"We placed the rock last fall on a cast iron chair in our garden, this spring the chair's leg had fallen off. This is the least of the problems we have had since we have taken the rock."
"I must be cursed! Please, whatever the legend, curse or folklore is, please put these rocks back on a beach for me. I do not want one more stroke of fate to push me over the edge."
According to legend, the volcano goddess Pele punishes those who steal from her. Timothy Murray took home some sand in 1997, and his pet died, his fiancee left him, he started to drink, and the FBI arrested him in a copyright infringement case. "One minute you're working and you're law-abiding and you've got money in the bank," he told the Los Angeles Times. "The next minute you are sitting in a federal penitentiary in Miami."
"People need something to blame their troubles on," says local postmaster Dave Kell, who notes that much of what is sent back is not even from Hawaii. "They bring this stuff on themselves."
What does he know? If the fire goddess is oppressing you, mail your guilty rock to this return service and they'll wrap it in a ti leaf and return it to Pele with a propitiating orchid. Better safe than sorry.