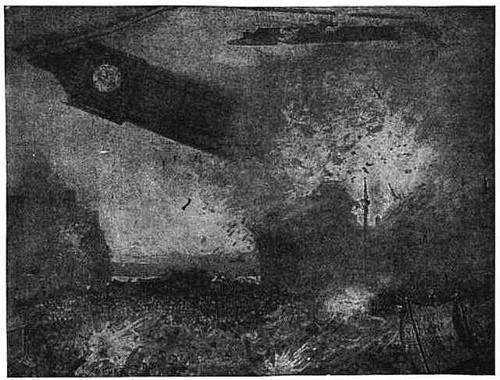 E. Douglas Fawcett's 1893 story "Hartmann the Anarchist" described an aerial bombardment of London — 47 years before World War II:
With eyes riveted now to the massacre, I saw frantic women trodden down by men; huge clearings made by the shells and instantly filled up; house-fronts crushing horses and vehicles as they fell; fires bursting out on all sides, to devour what they listed, and terrified police struggling wildly and helplessly in the heart of the press.
Hartmann rains dynamite bombs, shells, and blazing petroleum from his airship before a mutiny brings him down. "It has not been my aim to write history," writes the narrator. "I have sought to throw light only on one of its more romantic corners."
See also Wreck of the Titan and A Blindfold Bullseye.