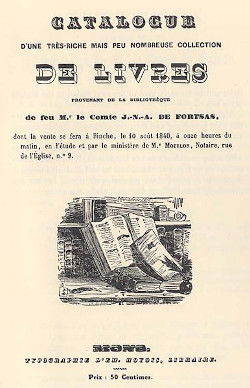 In 1840, librarians and booksellers throughout Europe received a catalog describing a unique collection of books to be auctioned: Jean Nepomucene Auguste Pichauld, Comte de Fortsas, had collected 52 unique books, books of which only a single copy was known to exist. The count had died the preceding September, the message said, and as his heirs had no interest in books, the collection would be auctioned off.
Bibliophiles converged on Binche, Belgium, that August for the event, only to discover that the appointed address did not exist. Notices declared that the town's library had acquired the books — but Binche had no library. In time it became clear that the Comte de Fortsas himself had never existed.
The whole thing had been an elaborate hoax put on by an antiquarian and retired military officer named Renier Hubert Ghislain Chalon. Ironically, the catalog of nonexistent books itself in time became a collectors' item.
What will happen if someone now writes those books?