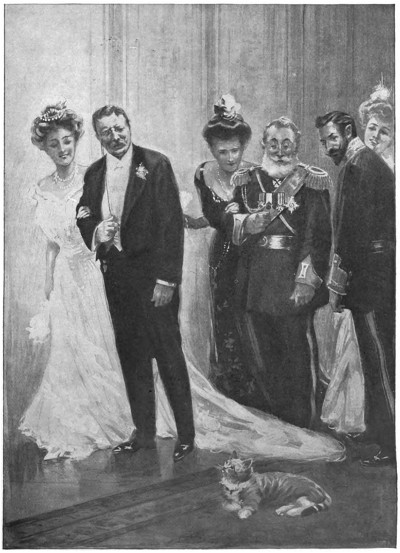 Theodore Roosevelt's friend Jacob A. Riis remembers an encounter with Slippers, the White House cat, during a state dinner in 1906:
The dinner was over, and the President, with the wife of a distinguished Ambassador on his arm, led the procession from the state dining-room along the wide corridor to the East Room at the other end of the building, the ambassadors and plenipotentiaries and ministers following, according to their rank in the official world, all chatting happily with their ladies, seeing no cloud on the diplomatic horizon; when all of a sudden the glittering procession came to a halt. There, on the rug, in the exact middle of the corridor, lay Slippers, stretched at full length, and blinking lazily at the fine show which no doubt he thought got up especially to do him honor. The President saw him in time to avoid treading on him, and stopped. His first impulse was to pick Slippers up, but a little shiver of his lady and a half-suppressed exclamation, as he bent over the cat, warned him that she did not like cats, or was afraid, and for a moment he was perplexed. Slippers, perceiving the attention bestowed on him, rolled luxuriously on the rug, purring his delight. No thought of moving out of the path was in his mind.

There was but one other thing to do, and the man who found a way to make peace between Russia and Japan, did it quickly. With an amused bow, as if in apology to the Ambassadress, he escorted her around Slippers, and kept on his way toward the East Room. Whereupon the representatives of Great Britain, and of France, of Germany, and Italy, of all the great empires and of the little kingdoms clear down to the last on the long list, followed suit, paying their respects to Slippers quite as effectually as if the war-ships of their nations had thundered out a salute at an expenditure of powder that would have kept a poor man comfortable for a year, and certainly have scared even a White House cat almost to death.
(From St. Nicholas, January 1908.)