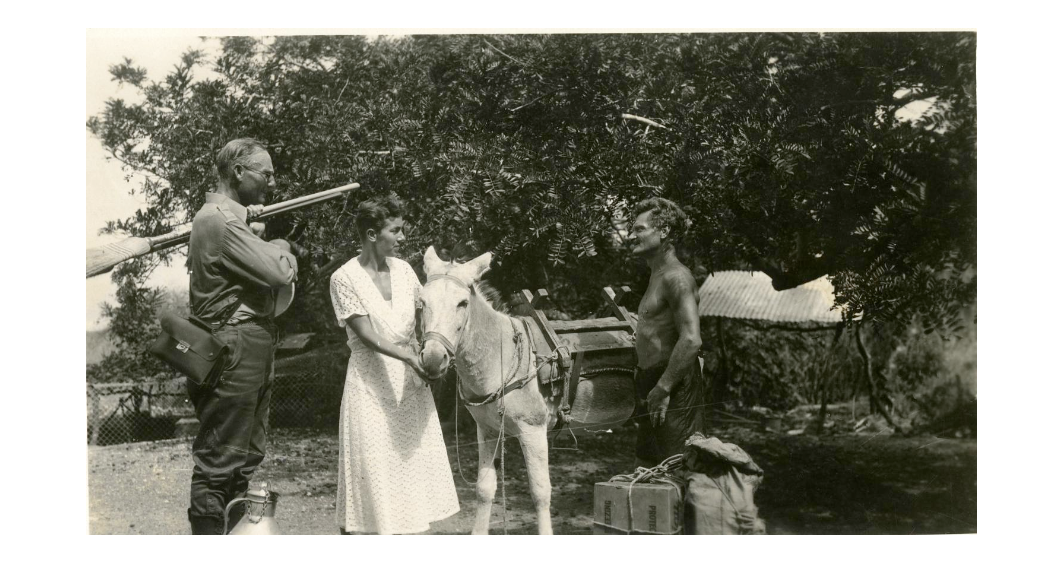 In 1929 a German couple fled civilization to live on an uninhabited island in the Eastern Pacific. But other settlers soon followed, leading to strife, suspicion, and possibly murder. In this week's episode of the Futility Closet podcast we'll tell the story of the Galápagos affair, a bizarre mystery that remains unsolved.
We'll also meet another deadly doctor and puzzle over a posthumous marriage.
Intro:
Damon Knight invented a way to compose stories without having to write them.
If beauty is in the eye of the beholder, why do we regard some tastes as bad?
Photo: Captain Allan G. Hancock, Dore Strauch, and Friedrich Ritter at Floreana. Smithsonian Institution Archives, Record Unit 7231, Waldo L. Schmitt Papers, Box 90, Folder 4, Image No. SIA2011-1149.
Sources for our feature on Floreana:
Dore Strauch, Satan Came to Eden: A Survivor's Account of the "Galápagos Affair," 1936.
Margret Wittmer, Floreana: A Woman's Pilgrimage to the Galápagos, 1989.
John E. Treherne, The Galápagos Affair, 2011.
Elizabeth Hennessy, On the Backs of Tortoises: Darwin, the Galapagos, and the Fate of an Evolutionary Eden, 2019.
Alexander Mann, Yachting on the Pacific: Together With Notes on Travel in Peru, and an Account of the Peoples and Products of Ecuador, 1909.
K. Thalia Grant and Gregory B. Estes, "Alf Wollebæk and the Galápagos Archipelago's First Biological Station," Galápagos Research 68 (2016), 33-42.
Hans-Rudolf Bork and Andreas Mieth, "Catastrophe on an Enchanted Island: Floreana, Galapagos, Ecuador," Rapa Nui Journal: Journal of the Easter Island Foundation 19:1 (2005), 5.
David Cameron Duffy, "Galapagos Literature — Fact and Fantasy," Noticias de Galápagos 44 (1986), 18-20.
Gavin Haines, "Cannibalism, Nude Germans and a Murder Mystery: The Secret History of the Galapagos," Telegraph, Feb. 12, 2018.
Oliver Smith, "Cannibalism, Murder and Chronic Obesity: 10 Island Paradises With Dark and Deadly Secrets," Telegraph.co.uk, Aug. 9, 2017.
Allison Amend, "In the Footsteps of Charles Darwin," New York Times (Online), June 20, 2017.
Trevor Seymour, "Murder on Seduction Island," [Surry Hills, New South Wales] Daily Telegraph, June 25, 2002, 26.
Shiela Waddell, "At the Ends of the Earth," Glasgow Herald, Nov. 20, 1999, 12.
Mitchell Smyth, "Satan in Paradise — Lust and Murder on a Desert Isle," Toronto Star, Oct. 22, 1994, L2.
Katherine Woods, "From Utopian Dream to Nightmare," New York Times, May 24, 1936.
"Woman Is Leaving Galapagos 'Eden,'" New York Times, Dec. 9, 1934.
"Desert Isles' 'Ruler' Escapes Eviction," New York Times, Jan. 23, 1934.
Stephanie Merry, "'The Galapagos Affair: When Satan Came to Eden' Movie Review," Washington Post, May 8, 2014.
Stephen Holden, "Seeking Eden, They Fled to Far Isle; Hell Followed," New York Times, April 3, 2014.
Andrea Crossan, "A New Film Unearths the True Story of a 1930s Murder Mystery in the Galapagos," The World, PRI, April 4, 2014.
Moira Macdonald, "'The Galapagos Affair': A Murder Mystery in Paradise," Seattle Times, April 17, 2014.
Alan Scherstuhl, "Murder in Paradise in The Galapagos Affair," Village Voice, April 2, 2014.
Ryan Gilbey, "Death in Paradise: Ryan Gilbey on The Galapagos Affair," New Statesman, July 28, 2014.
Listener mail:
"Cremation Medical Certificate," gov.uk, Jan. 2, 2009.
"Doctors' Fees, Cremation Forms & Certificates," beyond.life (accessed June 22, 2020).
Trevor Jackson and Richard Smith, "Harold Shipman," BMJ 328:7433 (Jan. 24, 2004), 231.
"Harold Shipman (1946–2004)," Biography, April 27, 2017.
John Philip Jenkins, "Harold Shipman," Encyclopaedia Britannica (accessed June 22, 2020).
This week's lateral thinking puzzle was contributed by listener Alon Eitan.
You can listen using the player above, download this episode directly, or subscribe on Google Podcasts, on Apple Podcasts, or via the RSS feed at https://futilitycloset.libsyn.com/rss.
Please consider becoming a patron of Futility Closet — you can choose the amount you want to pledge, and we've set up some rewards to help thank you for your support. You can also make a one-time donation on the Support Us page of the Futility Closet website.
Many thanks to Doug Ross for the music in this episode.
If you have any questions or comments you can reach us at podcast@futilitycloset.com. Thanks for listening!