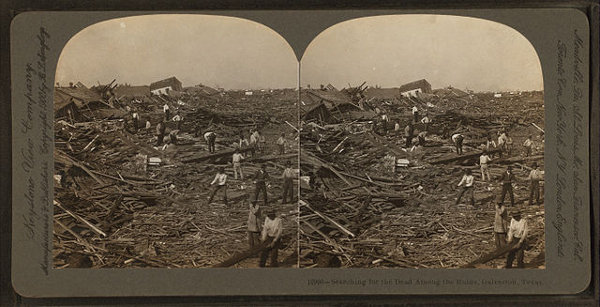 On Sept. 9, 1900, the day after a strong storm made landfall on the Texas coast, the U.S. Weather Bureau wired Western Union, Do you hear anything about Galveston?
The first response was We have been absolutely unable to hear a word from Galveston since 4 p.m. yesterday …. But then:
First news from Galveston just received by train which could get no closer to the bay shore than six miles, where Prairie was strewn with debris and dead bodies. About two hundred corpses counted from train. Large Steamship stranded two miles inland. Nothing could be seen of Galveston. Loss of life and property undoubtedly most appalling.
The storm had put the entire city under 8 to 15 feet of water and lashed it with winds reaching 145 mph. With 8,000 dead, it remains the deadliest natural disaster in U.S. history. Following is the only account known to have been written while the storm was taking place — it's an unsigned letter by a woman, probably a nurse, who was employed at the John Sealy Hospital:
A.M.
It does not require a great stretch of imagination to imagine this structure a shaky old boat out at sea. The whole thing rocking like a reef, surrounded by water, said water growing closer, ever closer. Have my hands full quieting nervous, hysterical women.

12-noon.
Things beginning to look serious. Water up to the first floor in the house, all over the basement of the hospital. Cornices, roofs window lights blinds flying in all directions.

The scenes about here are distressing. Everything washed away. Poor people trying, vainly to save their bedding, & clothing. Methinks the poor nurses will be trying to save their beds in short order. Now flames in the distance. It is all a grand, fine sight. Our beautiful Bay, a raging torrent.

3 p.m.
Am beginning to feel a weakening desire for something 'to cling to.' Should feel more comfortable in the embrace of your arms. You hold yourself in readiness to come to us? Should occasion demand? Darkness is overwhelming us, to add to the horror. Dearest — I — reach out my hand to you. My heart — my soul.
That's all we have — we don't know who wrote the letter, or whether she survived the storm (the hospital remained standing).
According to some survivors, we're lucky to have any accounts at all. "One hour more of that wind would have killed every person on the island," wrote Walker W. Davis, a salesman who waited out the storm in the Tremont Hotel.
Margaret Rowan Bettencourt, who was 9 years old at the time, remembered that the East End, where her grandmother's house was located, was largely reduced to splinters. "They never would've found her place, but my aunt had a 'polly' [parrot] that was up in the attic and the attic didn't go to pieces. It just sat on the top of the house and the next morning the polly was hollering 'Pretty Polly. Pretty Polly.' That's how they found where they lived."