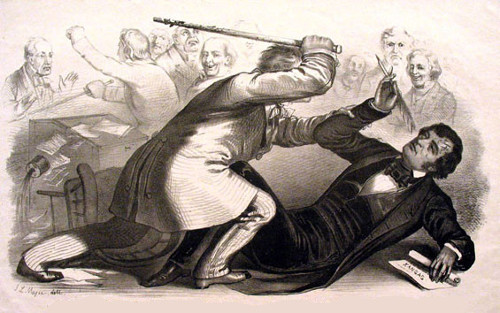 On May 22, 1856, South Carolina representative Preston Brooks approached Massachusetts senator Charles Sumner as he sat writing at his desk in the U.S. Senate chamber. "Mr. Sumner," he said, "I have read your speech twice over carefully. It is a libel on South Carolina, and Mr. Butler, who is a relative of mine." Then he began to beat Sumner savagely with his gold-headed walking cane. Blinded with blood, Sumner at first was trapped under the desk, which was bolted to the floor, but he wrenched it free and staggered up the aisle, Brooks raining blows on his head until the cane snapped and Sumner collapsed unconscious. Even then Brooks held him by the lapel and continued to beat him with half the cane until the two were separated.
Sumner had denounced South Carolina senator Andrew Butler in a speech two days earlier in a dispute over slavery in the new territories of Kansas and Nebraska. Brooks was convicted of assault and fined $300, but he received no prison sentence, and his constituents returned him to office. Pro-slavery Southerners sent him hundreds of new canes, one inscribed "Hit him again."
On Nov. 9, 1889, Col. A.M. Swope encountered Col. William Cassius Goodloe in the corridor of the Lexington, Ky., post office. The two had been battling for control of the state Republican party, and tragically they had adjoining mailboxes.
"You obstruct the way," said Goodloe.
"You spoke to me," said Swope. "You insulted me."
Goodloe drew a knife. Swope drew a Smith & Wesson .38. Goodloe stabbed Swope 13 times, piercing his heart and nearly cutting off his hand. Swope shot Goodloe twice, tearing up his belly and setting his clothes afire. Swope died on the post office floor, and Goodloe staggered to a doctor's office. He died two days later.
One witness said he never thought he would witness "such a magnificent display of manly courage and bravery." Goodloe's uncle, Cassius M. Clay, said of his nephew's conduct, "I couldn't have done better myself."