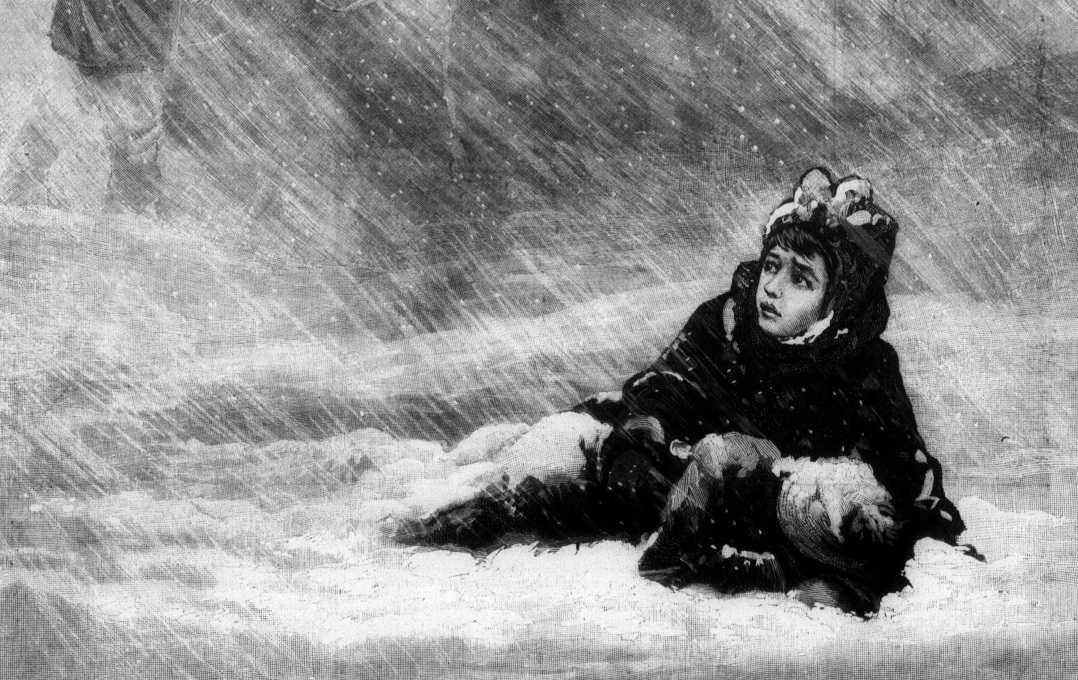 In January 1888, after a disarming warm spell, a violent storm of blinding snow and bitter cold suddenly struck the American Midwest, trapping farmers in fields, travelers on roads, and hundreds of children in schoolhouses with limited fuel. In this week's episode of the Futility Closet podcast we'll describe the Children's Blizzard, one of the most harrowing winter storms in American history.
We'll also play 20 Questions with a computer and puzzle over some vanishing vultures.
Intro:
In 1835 an assassin shot two good pistols at Andrew Jackson and both misfired.
In 1958 Brooklyn College chemistry professor Homer Jacobson built a self-replicating model train.
Sources for our feature on the Children's Blizzard:
David Laskin, The Children's Blizzard, 2004.
Mitchell Newton-Matza, ed., Disasters and Tragic Events, 2014.
Steven L. Horstmeyer, The Weather Almanac, 2011.
"The Pitiless Blizzard," Aurora Daily Express, Jan. 16, 1888.
"Victims of the Storm," Bridgeport Morning News, Jan. 19, 1888.
"In the Neighborhood," Deseret News, Jan. 24, 1888.
"A Brave Girl," Gettysburg [Pa.] Compiler, Jan. 31, 1888.
Edythe H. Dunn, "Not Even an Act of God," Phi Delta Kappan 30:7 (March 1949), 245-249.
Jill Callison, "The Children's Blizzard," Argus Leader, Dec. 26, 2004.
Maria Houser Conzemius, "That's Why They Call It the Children's Blizzard," Iowa City Press-Citizen, March 13, 2007.
Steve Tracton, "Freak, Deadly Storm: Children's Blizzard of 1888," Washington Post, Jan. 14, 2011.
Jeanie Mebane, "Blizzard!" Cobblestone 33:3 (March 2012).
"One-Room Schoolhouse Lives," Argus Leader, Sept. 4, 2012.
Beccy Tanner, "213 Schoolchildren Perished in the Great Plains Blizzard of 1888," Wichita Eagle, Dec. 31, 2012.
Alyssa Ford, "125 Years Ago, Deadly 'Children's Blizzard' Blasted Minnesota," MinnPost, Jan. 11, 2013.
Tom Lawrence, "Children's Blizzard Struck Great Plains 125 Years Ago," McClatchy-Tribune Business News, Jan. 12, 2013.
Paula Quam, "Warm Weather Like This Week's Preceded 1888 Deadly Blizzard," Saint Paul Pioneer Press, Dec. 19, 2015.
Sean Potter, "Retrospect: January 12, 1888: The Children's Blizzard," Weatherwise (accessed Jan. 6, 2018).
Amber Pariona, "The Ten Deadliest Blizzards In History," World Atlas, April 25, 2017.
Listener mail:
"Hitler's Sunken Secret," NOVA, pbs.org.
Robin Burgener describes teaching a neural network to play a surprisingly accurate game of 20 Questions.
Karen Schrock, "Twenty Questions, Ten Million Synapses," ScienceLine, July 28, 2006.
"A Heroic Commando, A Deadly Mission to Sabotage Nazi Bomb — and the Pregnant Widow He Left Behind," Cork Evening Echo Holly Bough, Christmas 2017.
This week's lateral thinking puzzle was contributed by listener Eugene Grabowski. Here are three corroborating links (warning — these spoil the puzzle).
You can listen using the player above, download this episode directly, or subscribe on iTunes or Google Play Music or via the RSS feed at http://feedpress.me/futilitycloset.
Please consider becoming a patron of Futility Closet — on our Patreon page you can pledge any amount per episode, and we've set up some rewards to help thank you for your support. You can also make a one-time donation on the Support Us page of the Futility Closet website.
Many thanks to Doug Ross for the music in this episode.
If you have any questions or comments you can reach us at podcast@futilitycloset.com. Thanks for listening!