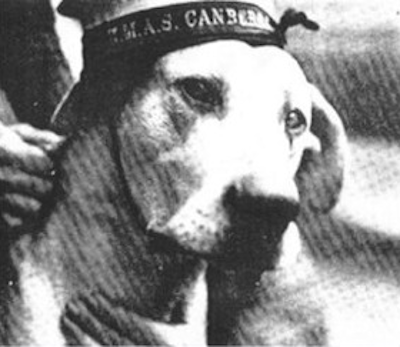 The only dog ever enlisted in the Royal Navy was a Great Dane who befriended the sailors of Cape Town in the 1930s. Given the rank of able seaman, he boosted the morale of British sailors around the world. In this week's episode of the Futility Closet podcast we'll tell the story of Just Nuisance and his adventures among the sailors who loved him.
We'll also examine early concentration camps and puzzle over a weighty fashion.
Intro:
For most of World War I a statue of Mary hung over Albert, France.
J.B.S. Haldane learned to detect methane by reciting Julius Caesar.
Sources for our feature on Just Nuisance:
Terence Sisson, Just Nuisance, AB: His Full Story, 1985.
Leslie M. Steyn, Just Nuisance: Life Story of an Able Seaman Who Leads a Dog's Life, 1945.
Malcolm Archibald, Sixpence for the Wind: A Knot of Nautical Folklore, 1998.
Douglas Reed, Somewhere South of Suez, 1950.
Lance Van Sittert and Sandra Scott Swart, Canis Africanis: A Dog History of Southern Africa, 2008.
W.M. Bisset, "New Light on South Africa's Naval Heritage," Scientia Militaria: South African Journal of Military Studies 7:4 (1977), 38-44.
H.H. Curson, "Service Pets," Journal of the South African Veterinary Association 27:1 (1956), 31-50.
Lance Van Sittert and Sandra Swart, "Canis familiaris: A Dog History of South Africa," South African Historical Journal 48:1 (2003), 138-173.
Leslie Witz, "The Making of an Animal Biography: Huberta's Journey Into South African Natural History, 1928-1932," Kronos (2004), 138-166.
"Navy Dog Just Nuisance to Get New Cap, Collar," Cape Times, Sept. 19, 2019, 2.
"Have Fun With the Kids on Just Nuisance Day," Cape Times, March 8, 2018, 6.
Ellen Castelow, "Able Seaman Just Nuisance," Historic UK (accessed July 5, 2020).
Jon Earle, "'A Dog, But a Sailor at Heart': The Story of Just Nuisance, the Only Dog Ever Enlisted in the Royal Navy," Royal Museums Greenwich, Nov. 4, 2019.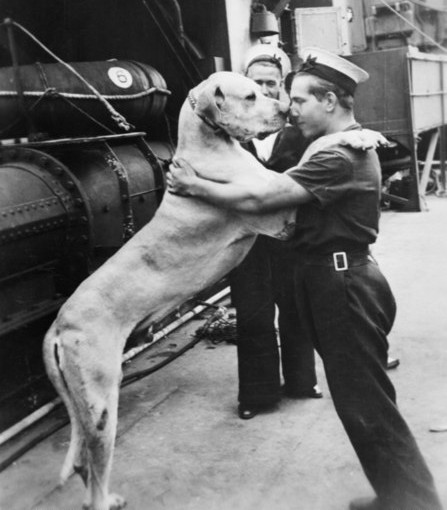 Listener mail:
Andrea Pitzer, "Concentration Camps Existed Long Before Auschwitz," Smithsonian, Nov. 2, 2017.
"Timeline: February, 1896: Reconcentration Policy," Crucible of Empire: The Spanish-American War, PBS, 1999.
Paul Harris, "'Spin' on Boer Atrocities," Guardian, Dec. 8, 2001.
"Women and Children in White Concentration Camps During the Anglo-Boer War, 1900-1902," South African History Online (accessed July 6, 2020).
"Black Concentration Camps During the Anglo-Boer War 2, 1900-1902," South African History Online (accessed July 6, 2020).
"Jacob Rees-Mogg Comments on Concentration Camps," BBC News, Feb. 14, 2019.
Fransjohan Pretorius, "Concentration Camps in the South African War? Here Are the Real Facts," The Conversation, Feb. 18, 2019.
This week's lateral thinking puzzle was contributed by listener Cate Burlington, who sent this corroborating link (warning — this spoils the puzzle).
You can listen using the player above, download this episode directly, or subscribe on Google Podcasts, on Apple Podcasts, or via the RSS feed at https://futilitycloset.libsyn.com/rss.
Please consider becoming a patron of Futility Closet — you can choose the amount you want to pledge, and we've set up some rewards to help thank you for your support. You can also make a one-time donation on the Support Us page of the Futility Closet website.
Many thanks to Doug Ross for the music in this episode.
If you have any questions or comments you can reach us at podcast@futilitycloset.com. Thanks for listening!