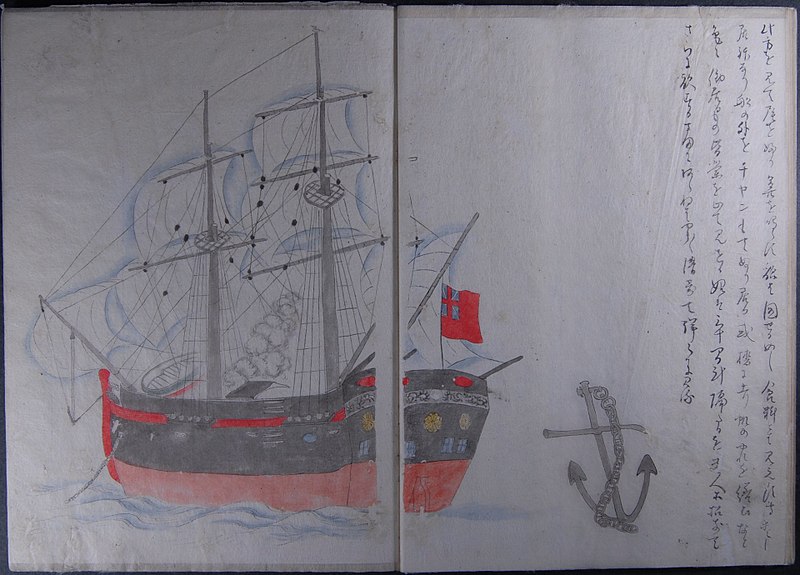 In 1829 a group of convicts commandeered a brig in Tasmania and set off across the Pacific, hoping to elude their pursuers and win their freedom. In this week's episode of the Futility Closet podcast we'll describe the mutineers of the Cyprus and a striking new perspective on their adventure.
We'll also consider a Flemish dog and puzzle over a multiplied Oscar.
Intro:
Mark Twain slipped an esophagus into a 1902 short story.
Designer Alan Fletcher's West London studio is secured with an alphabet.
Sources for our feature on William Swallow:
Warwick Hirst, The Man Who Stole the Cyprus: A True Story of Escape, 2008.
John Mulvaney, The Axe Had Never Sounded: Place, People and Heritage of Recherche Bay, Tasmania, 2007.
Robert Hughes, The Fatal Shore, 1987.
David Chapman and Carol Hayes, eds., Japan in Australia: Culture, Context and Connection, 2019.
Andrew Steinmetz, Japan and Her People, 1859.
D.C.S. Sissons, "The Voyage of the Cyprus Mutineers: Did They Ever Enter Japanese Waters?", Journal of Pacific History 43:2 (September 2008), 253-265.
Ian Duffield, "Cutting Out and Taking Liberties: Australia's Convict Pirates, 1790–1829," International Review of Social History 58:21 (December 2013), 197–227.
E.R. Pretyman, "Pirates at Recherche Bay or the Loss of the Brig 'Cyprus'," Papers and Proceedings of the Royal Society of Tasmania 88 (1954), 119-128.
Mark Gregory, "Convict Era Broadsides and Ballads and the Working Poor: Part 1," Australian Folklore 32 (November 2017), 195-215.
Tim Stone, "How a Samurai Manuscript Vindicated the Wild Claims of Convict Escapee William Swallow," ABC Radio National, Sept. 9, 2019.
Troy Lennon, "Convicts Chased Freedom From Tasmania to China," [Surry Hills, N.S.W.] Daily Telegraph, Aug. 14, 2019, 35.
Rachel Mealey, "The Brig Cyprus: How an English Surfer Solved the Mystery of an Australian Pirate Ship in Japan," ABC News, June 24, 2017.
Joshua Robertson, "Australian Convict Pirates in Japan: Evidence of 1830 Voyage Unearthed," Guardian, May 27, 2017.
George Blaikie, "Slow Trip to China," [Adelaide] Mail, Oct. 27, 1951, 4.
"Piratical Seizure of the Government Brig Cyprus," [Hobart, Tasmania] Colonial Times, Sept. 4, 1829.
Stephen Gapps, "The Last Pirate," Australian National Maritime Museum, May 31, 2017.
"William Swallow," Convict Records of Australia (accessed July 26, 2020).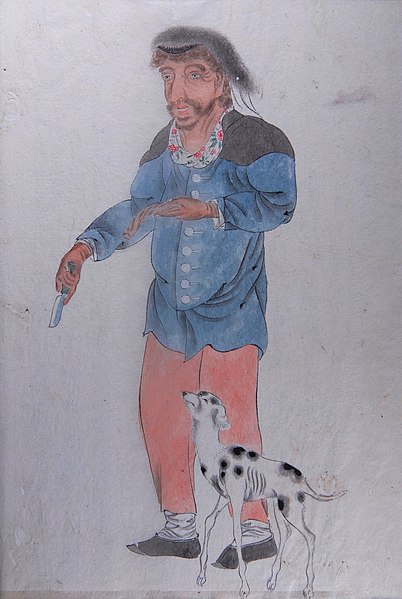 "As we approached the barbarian ship the dog wagged its tail and whined at us. Its face looks like my illustration. It did not look like food. It looked like a pet." Watercolors by samurai artist Makita Hamaguchi, 1830, from the Tokushima prefectural archive.
Listener mail:
Wikipedia, "A Dog of Flanders" (accessed July 31, 2020).
Wikipedia, "Dog of Flanders (TV series)" (accessed July 31, 2020).
Wikipedia, "Dogcart (Dog-Drawn)" (accessed July 31, 2020).
Wikipedia, "Drafting Dog" (accessed July 31, 2020).
Wikipedia, "Belgian Draft Dog" (accessed July 31, 2020).
"An Icon of the Belgian Army in WWI, the Dog Cart," War History Online, March 3, 2014.
Wikipedia, "Carting" (accessed August 2, 2020).
"A Dog of Flanders," National Purebred Dog Day, Dec. 5, 2018.
Wikipedia, "Bouvier des Flandres" (accessed August 2, 2020).
This week's lateral thinking puzzle was contributed by listener Marie Nearing. Here are four corroborating links (warning — these spoil the puzzle).
You can listen using the player above, download this episode directly, or subscribe on Google Podcasts, on Apple Podcasts, or via the RSS feed at https://futilitycloset.libsyn.com/rss.
Please consider becoming a patron of Futility Closet — you can choose the amount you want to pledge, and we've set up some rewards to help thank you for your support. You can also make a one-time donation on the Support Us page of the Futility Closet website.
Many thanks to Doug Ross for the music in this episode.
If you have any questions or comments you can reach us at podcast@futilitycloset.com. Thanks for listening!