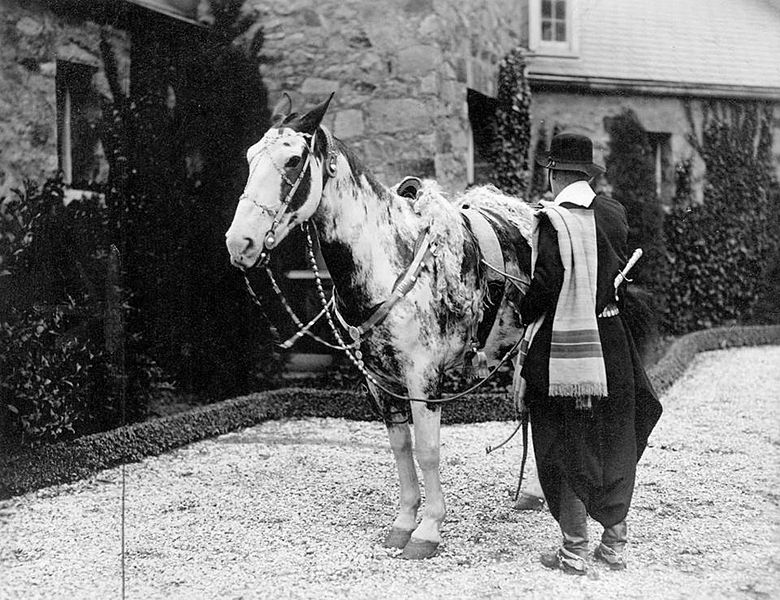 In 1925, Swiss schoolteacher Aimé Tschiffely set out to prove the resilience of Argentina's criollo horses by riding two of them from Buenos Aires to New York City. In this week's episode of the Futility Closet podcast we'll follow Tschiffely's unprecedented journey, which has been called "the most exciting and influential equestrian travel tale of all time."
We'll also read an inscrutable cookbook and puzzle over a misbehaving coworker.
Intro:
English was Joseph Conrad's third language, but it held a peculiar mystique for him.
Thanks to a mathematical oddity, one measurement suffices to establish the area of a carousel deck.
Sources for our feature on Aimé Tschiffely:
A.F. Tschiffely, Tschiffely's Ride: Ten Thousand Miles in the Saddle From Southern Cross to Pole Star, 1933.
Lawrence Scanlan, Wild About Horses: Our Timeless Passion for the Horse, 2012.
Sam Leith, "The Incredible Journey," Spectator 324:9694 (June 14, 2014), 36-37.
"Long Ride," Time 21:16 (April 17, 1933), 51.
Bacil F. Kirtley, "Unknown Hominids and New World Legends," Western Folklore 23:2 (April 1964), 77-90.
"Tschiffely's 10,000-Mile, Three-Year Ride," Horse Canada, Jan. 2, 2014.
Filipe Masetti Leite, "Journey to the End of the World," Toronto Star (Online), Dec. 19, 2016.
Paul Theroux, "Run for Your Life," New York Times, March 5, 1989.
"A.F. Tschiffely, Made Noted Trip," New York Times, Jan. 6, 1954.
"Noted Horse Dies in Argentina at 37," [Washington D.C.] Evening Star, Dec. 26, 1947, A-11.
"Famous 'Trek' Horse Embalmed," New York Times, Dec. 25, 1947.
"A Homeric Exploit in the Saddle," New York Times, April 23, 1933.
"10,000-Mile, Ride Recounted in Book," New York Times, April 10, 1933.
"Argentinian Horseman Home Again," New York Times, Dec. 20, 1928.
"Nelson Extols Ponies," New York Times, Oct. 6, 1928.
"Argentine Rider Glad to Rest Here," [Washington D.C.] Evening Star, Aug. 30, 1928, 17.
"Yipee! (or Spanish Meaning That): Look, Girls! a Pampas Cowboy!", Indianapolis Times, July 10, 1928.
"6,000 Miles on Horseback," New York Times, May 12, 1927.
"Testing Endurance of Horse by Long Ride," New Britain [Conn.] Herald, Oct. 30, 1925, 15.
Tschiffely's ride on Google Maps:
Listener mail:
Samille Mitchell, "Sophie Matterson Ditched City Life and Embraced the Isolation of a 5,000km Solo Trek Across Australia," ABC News, May 16, 2020.
Sian Johnson, "Victorian Man 'Crayfish Dan' Spent 40 Years Living in a Coastal Cave Near Warrnambool," ABC News, May 9, 2020.
local student, "Evan got scammed on a cookbook he bought off amazon? It's like it was written by a neural network," Twitter, May 23, 2020.
This week's lateral thinking puzzle was contributed by listener Dave Lawrence.
You can listen using the player above, download this episode directly, or subscribe on Google Podcasts, on Apple Podcasts, or via the RSS feed at https://futilitycloset.libsyn.com/rss.
Please consider becoming a patron of Futility Closet — you can choose the amount you want to pledge, and we've set up some rewards to help thank you for your support. You can also make a one-time donation on the Support Us page of the Futility Closet website.
Many thanks to Doug Ross for the music in this episode.
If you have any questions or comments you can reach us at podcast@futilitycloset.com. Thanks for listening!