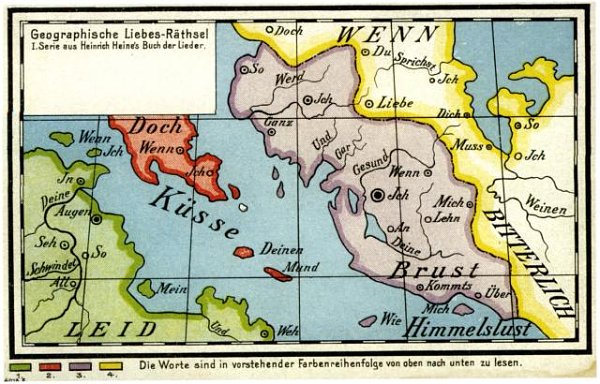 This "geographical love enigma" appeared on a German postcard in the early 20th century. Travel north to south through each successive country (green, red, purple, yellow), naming the geographical features you encounter in each, and you'll produce the fourth song in Heinrich Heine's Buch der Lieder:
Wenn ich in deine Augen seh,
So schwindet all mein Leid und Weh;
Doch wenn ich küsse deinen Mund,
So werd ich ganz und gar gesund.
Wenn ich mich lehn an deine Brust,
Kommt's über mich wie Himmelslust;
Doch wenn du sprichst: "Ich liebe dich!"
So muss ich weinen bitterlich.
When I look into your eyes,
Then vanish all my sorrow and pain!
Ah, but when I kiss your mouth,
Then I will be wholly and completely healthy.
When I lean on your breast,
I am overcome with heavenly delight,
Ah, but when you say, "I love you!"
Then I must weep bitterly.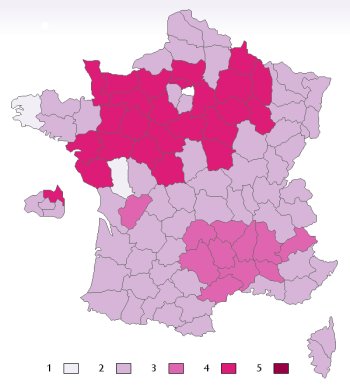 The French greet one another with kisses on the cheek, but the number of kisses varies with the département. In 2007 Gilles Debunne set up a website, Combien de bises?, on which his countrymen could record their local customs; to date, after more than 87,000 votes, the results range from 1 kiss in Finistère to 4 in Loire Atlantique.
"It's a lot more subtle than I ever imagined," Debunne told the Times. "Sometimes the number of kisses changes depending on whether you're seeing friends or family or what generation you belong to."