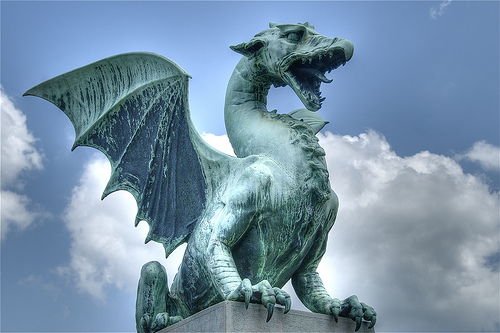 When J.R.R. Tolkien wrote his first story, at age 7, "my mother … pointed out that one could not say 'a green great dragon,' but had to say 'a great green dragon.' I wondered why, and still do." It turns out that there's an unwritten rule in English that governs the order in which we string our adjectives together:
opinion
size
physical quality
shape
age
color
origin
material
type
purpose
In The Elements of Eloquence, Mark Forsyth writes, "So you can have a lovely little old rectangular green French silver whittling knife. But if you mess with that word order in the slightest you'll sound like a maniac. It's an odd thing that every English speaker uses that list, but almost none of us could write it out."
Another unwritten rule concerns ablaut reduplication: In terms such as chit-chat or dilly-dally, in which a word is repeated with an altered vowel, the vowels will follow the pattern I-A-O if there are three words and I-A or I-O if there are two. So:
tip-top
clip-clop
King Kong
flip-flop
sing-song
shilly-shally
And so on. Interestingly, these rules about precedence seem to follow a precedence rule of their own: The "royal order of adjectives" would require Red Riding Hood to meet the "Bad Big Wolf" (opinion before size). But the rule of ablaut reduplication apparently trumps this, making him the Big Bad Wolf.
"Why this should be is a subject of endless debate among linguists," Forsyth writes. "It might be to do with the movement of your tongue or an ancient language of the Caucasus. It doesn't matter. It's the law, and, as with the adjectives, you knew it even if you didn't know you knew it. And the law is so important that you just can't have a Bad Big Wolf."
I don't know how this applies to dragons.
(Thanks, Nick and Armin.)