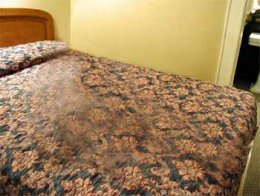 Recognize this hotel room? Then you should call the Toronto police: A 9-year-old girl was sexually abused here two or three years ago.
Even though she's been airbrushed out of the photo, the room still has a haunted quality. The same girl was apparently photographed in an elevator, near a fountain, even in an arcade.
Stranger still are the Nutshell Studies of Unexplained Death, dollhouse recreations of actual crime scenes. They were created in the 1930s by Frances Glessner Lee, a millionaire heiress who wanted to improve police skills in forensic pathology. Four puzzles are presented here, and the Baltimore medical examiner won't reveal the solutions — he's still using them in training seminars.