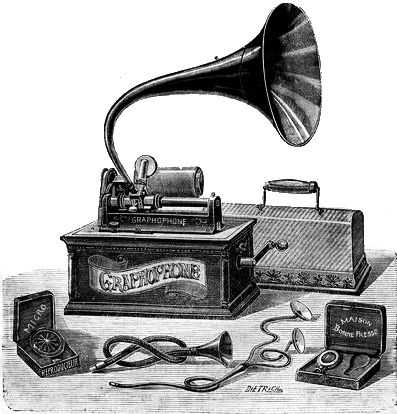 From the St. Louis Post-Dispatch, via the Ohio Law Reporter, Aug. 17, 1908: During a dispute over a will in Vienna, a phonograph record was introduced into evidence so that the dead woman herself could explain her intentions, which she'd recorded during her lifetime:
Prof. Sulzer stated that he had a phonographic record that would settle beyond question the point in dispute and asked the court's permission to introduce it as evidence. The permission was granted and Mme. Blaci, the decedent, told in her own voice of her affection for her brother and his family and announced her intention of providing before her death so that her nephew, Heinrich, would be well cared for after she had passed away.

Heinrich testified that the record was made on the twenty-first anniversary of his birth. Mme. Blaci, he told the judge, had said at the time that she wanted the words she had spoken to her brother, Heinrich's father, put on record as a souvenir of her affection that could be handed down to her nephew.
"After hearing the record, the court immediately awarded Heinrich $120,000 as his share of the estate, which was the full amount claimed by him."