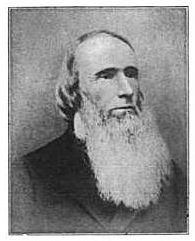 The son of William Henry Harrison, John Scott Harrison, served two terms in Congress but spent the rest of his life quietly on his farm in Ohio. At his interment there in 1878 it was discovered that an adjoining grave had recently been robbed, so Harrison's son and nephew traveled to Cincinnati to seek the missing body.
They visited several medical schools but found nothing, and were about to give up when they noticed a tautened rope leading into chute in the dissecting room of the Ohio Medical College. On turning the windlass they brought up a naked body and discovered to their horror that it was Harrison himself, his body stolen somehow from a guarded brick vault less than 24 hours after his burial.
By a curious further coincidence, Harrison's son Benjamin himself eventually grew up to be president, making John Scott Harrison the only man in history to be both son and father of a U.S. president. But no one knows who stole his body, how, or how it came to be suspended in that dissecting room.