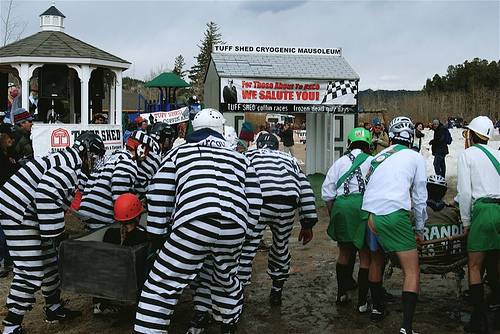 If you're not doing anything next spring, head to Nederland, Colo., to celebrate Frozen Dead Guy Days, a three-day festival commemorating Bredo Morstoel, whose body is packed in dry ice in a Tuff Shed in the hills above town.
Bredo's grandson Trygve Bauge imported the corpse from Norway in 1989 and stored it in liquid nitrogen; when Trygve was deported in 1993 and his mother evicted from her home, local businesses pitched in to keep the body preserved.
The annual festival includes coffin races (above), a hearse parade, lookalike contests, an ice-carving demonstration, documentaries (Grandpa's in the Tuff Shed and Grandpa's Still in the Tuff Shed), frozen turkey bowling, showshoe races, and snow sculpture contests. Nearby Glacier Ice Cream has even concocted a commemorative flavor, Frozen Dead Guy.
Bredo has been dead now for 20 years; psychics report he's amused by all this but doing fine.