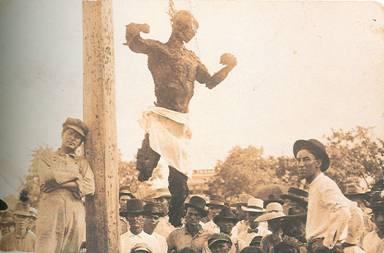 Between 1882 and 1930, Texans committed 492 lynchings. By most accounts, the most horrible of these was the 1916 slaying of Jesse Washington, a Waco farmhand who had confessed to the rape and murder of a white farmer's wife.
A jury of 12 whites deliberated for four minutes before declaring Washington guilty. They called for the death penalty, but before authorities could act, he was dragged from the courtroom, doused with coal oil, and suspended alive over a bonfire. A witness wrote:
Washington was beaten with shovels and bricks … was castrated, and his ears were cut off. A tree supported the iron chain that lifted him above the fire. … Wailing, the boy attempted to climb up the skillet hot chain. For this, the men cut off his fingers.
Washington's corpse was put in a cloth bag and dragged behind a car to Robinson, where it was hung from a pole. Northern newspapers condemned the lynching, but Texas was largely unrepentant. The image above is taken from a postcard (!); on the back someone has written, "This is the barbeque we had last night. My picture is to the left with a cross over it. Your son, Joe."