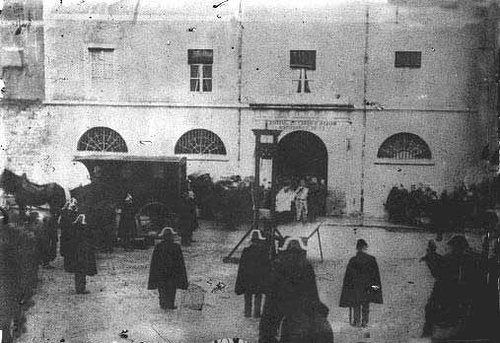 Account of an execution by guillotine, recorded in The Mirror of Literature, Amusement, and Instruction, July 7, 1827:
Arrived near the fatal machine, the unhappy man stepped out of the vehicle, knelt at the feet of his confessor, received the priestly benediction, kissed some individuals who accompanied him, and was hurried by the officers of justice up the steps of the cube-form structure of wood, painted of a blood-red, on which stood the dreadful apparatus of death.

To reach the top of the platform, to be fast bound to a board, to be placed horizontally under the axe, and deprived of life by its unerring blow, was, in the case of this miserable offender, the work literally of a moment. It was indeed an awfully sudden transit from time to eternity. He could only cry out, 'Adieu, mes amis,' and he was gone. The severed head, passing through a red-coloured bag fixed under, fell to the ground-the blood spouted forth from the neck like water from a fountain-the body, lifted up without delay, was flung down through a trap-door in the platform.

Never did capital punishment more quickly take effect on a human being; and whilst the executioner was coolly taking out the axe from the groove of the machine, and placing it, covered as it was with gore, in a box, the remains of the culprit, deposited in a shell, were hoisted into a wagon, and conveyed to the prison. In twenty minutes all was over, and the Grande Place nearly cleared of its thousands, on whom the dreadful scene seemed to have made, as usual, the slightest possible impression.