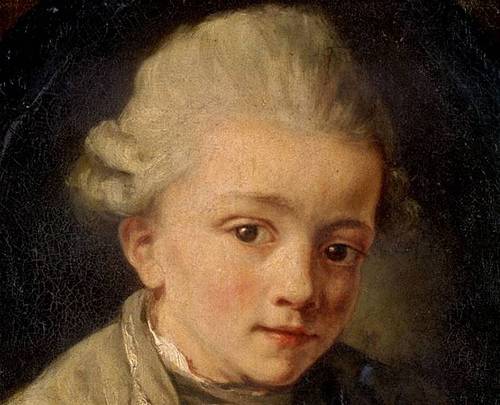 Eyewitness account of a performance by the 8-year-old Mozart, 1769:
"After this he played a difficult lesson, which he had finished a day or two before: his execution was amazing, considering that his little fingers could scarcely reach a fifth on the harpsichord.

"His astonishing readiness, however, did not arise merely from great practice; he had a thorough knowledge of the fundamental principles of composition, as, upon producing a treble, he immediately wrote a base under it, which, when tried, had a very good effect.

"He was also a great master of modulation, and his transitions from one key to another were excessively natural and judicious; he practiced in this manner for a considerable time with an handkerchief over the keys of the harpsichord.

"The facts which I have been mentioning I was myself an eye witness of; to which I must add, that I have been informed by two or three able musicians, when Bach the celebrated composer had begun a fugue and left off abruptly, that little Mozart had immediately taken it up, and worked it after a most masterly manner.
He was still an 8-year-old, though. "For example, whilst he was playing to me, a favourite cat came in, upon which he immediately left his harpsichord, nor could we bring him back for a considerable time."
(From Daines Barrington, "Account of a Very Remarkable Young Musician," Philosophical Transactions)