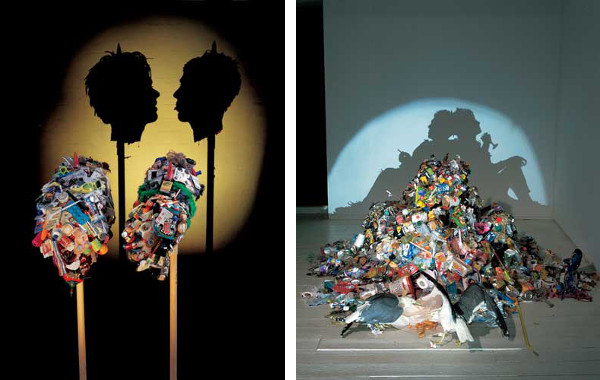 Artists Tim Noble and Sue Webster find self-portraits in arrangements of domestic trash. Their Dirty White Trash (with Gulls) (1998, right) was contrived from the six months' rubbish they produced while making it, a sculpture produced by the residue of its own composition.
More shadow art: Shigeo Fukuda, Larry Kagan, Richard Haas.
Somewhat related: Last year travelers from Washington state to Vancouver were surprised to discover this "negative space" billboard by the side of the road. It was created by Daniel Mihalyo and Annie Han of Seattle-based art collective Lead Pencil Studio. Most billboards draw the eye away from the environment; this draws the eye to it.
(Thanks, Alex and Bob.)