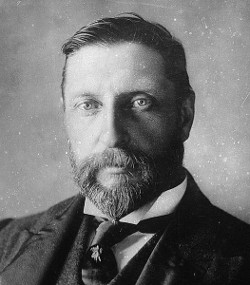 On July 21, 1904, the London Times published a curious letter from H. Rider Haggard. On the night of Saturday, July 9, he said, he had gone to bed at about 12:30 "and suffered from what I took to be a nightmare":
I dreamed that a black retriever dog, a most amiable and intelligent beast named Bob, which was the property of my eldest daughter, was lying on its side among brushwood, or rough growth of some sort, by water. In my vision the dog was trying to speak to me in words, and, failing, transmitted to my mind in an undefined fashion the knowledge that it was dying. Then everything vanished, and I woke to hear my wife asking me why on earth I was making those horrible and weird noises. I replied that I had had a nightmare about a fearful struggle, and that I had dreamed that old Bob was in a dreadful way, and was trying to talk to me and to tell me about it.
The following morning Haggard and his wife told the story to their daughters, and it was not until that evening that the family realized that Bob was missing. Haggard began to investigate, and on Thursday morning he and a groom discovered the dog's body floating in the River Waveney about a mile and a quarter from the author's home. Haggard was also approached by two railway plate-layers who on Monday had found the dog's collar atop a bridge that crossed the water between Ditchingham and Bungay. "It would seem that the animal must have been killed by an excursion train that left Ditchingham at 10.25 on Saturday night, returning empty from Harlestone a little after 11." This was the last train that ran that night, and no trains ran on Sunday.
It appeared that the train had knocked the dog into the reedy margin of the water, where, if it was still alive, "it must have suffocated and sunk, undergoing, I imagine, much the same sensations as I did in my dream, and in very similar surroundings to those that I saw therein — namely, amongst a scrubby growth at the edge of water."
I am forced to conclude that the dog Bob, between whom and myself there existed a mutual attachment, either at the moment of his death, if his existence can conceivably have been prolonged till after one in the morning, or, as seems more probable, about three hours after that event, did succeed in calling my attention to its actual or recent plight by placing whatever portion of my being is capable of receiving such impulses when enchained by sleep, into its own terrible position.
The full letter is here. Haggard added a certificate by a veterinary surgeon, affirming that Bob must have been in the water three days; from his wife and children, confirming his description of the nightmare on Sunday morning; from the plate-layer who discovered the collar; and from the groom who had found the dog with him. Draw your own conclusions.