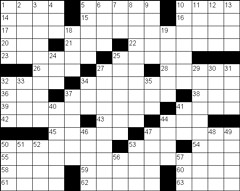 In May 1944, as the Allies prepared to invade Europe, the word UTAH appeared in a crossword puzzle in Britain's Daily Telegraph. Security officers found that a bit worrisome: Utah was the code name for one of the landing beaches.
Their worry turned to alarm when OMAHA and MULBERRY, two further code names, appeared in subsequent puzzles. And alarm turned to panic when NEPTUNE and OVERLORD appeared four days before the planned invasion. In Allied code, Neptune referred to the landing operation, Overlord to the entire invasion of Normandy. The government immediately arrested Leonard Dawe, the schoolteacher who had composed the puzzles.
A long interrogation ensued, but in the end they decided Dawe was innocent. Apparently his students had overheard troops using these words and then repeated them in his hearing. If that's true, the published words were in fact code names — but no one involved had recognized them as such.