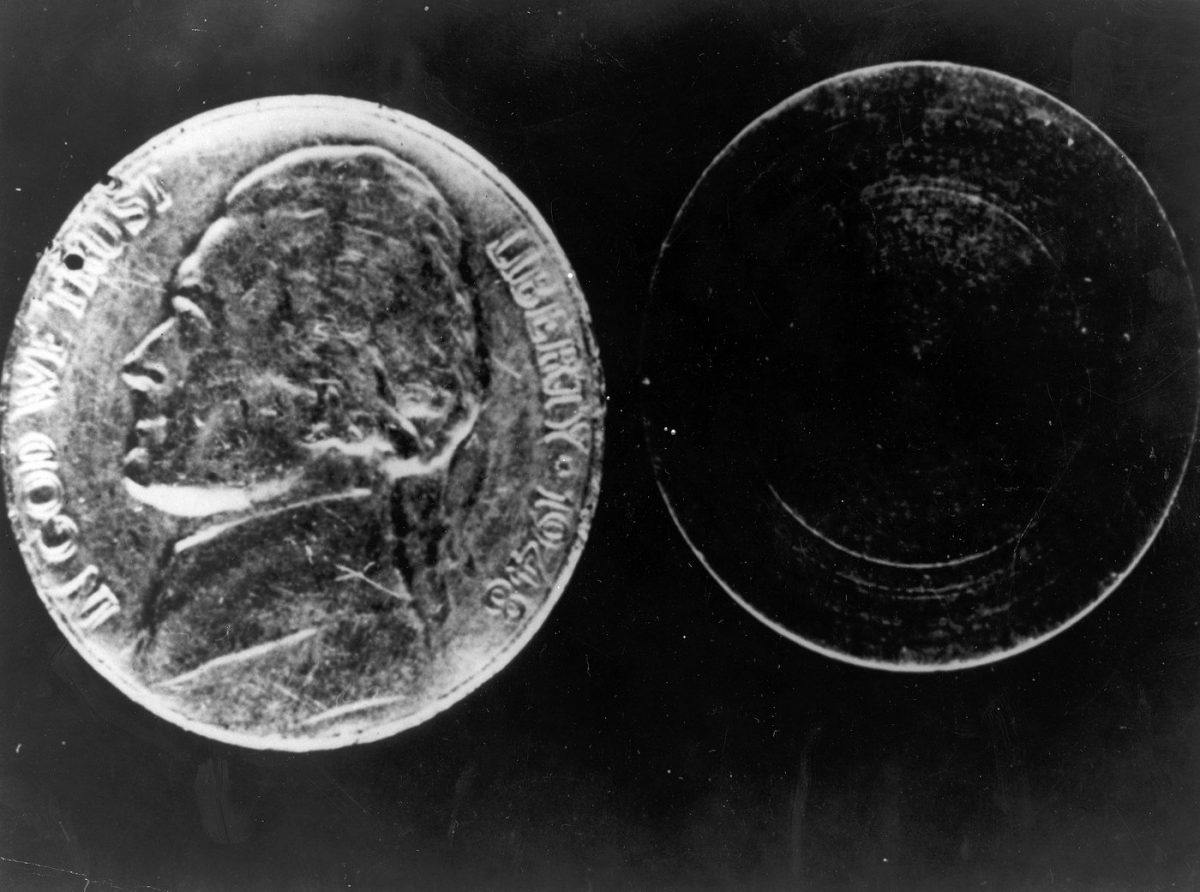 In June 1953, Brooklyn newsboy Jimmy Bozart was collecting in a Foster Avenue apartment building when someone paid him with a nickel that felt light. When he dropped it it popped open, revealing a piece of microfilm that bore a series of numbers (below).
The New York police gave it to the FBI, which spent four years trying to determine the origin of the nickel and the meaning of the numbers. Finally, in May 1957 defecting KGB agent Reino Häyhänen helped them crack the cipher. The message was a greeting from Moscow welcoming him to the United States:
WE CONGRATULATE YOU ON A SAFE ARRIVAL. WE CONFIRM THE RECEIPT OF YOUR LETTER TO THE ADDRESS 'V REPEAT V' AND THE READING OF LETTER NUMBER 1.
FOR ORGANIZATION OF COVER, WE GAVE INSTRUCTIONS TO TRANSMIT TO YOU THREE THOUSAND IN LOCAL (CURRENCY). CONSULT WITH US PRIOR TO INVESTING IT IN ANY KIND OF BUSINESS, ADVISING THE CHARACTER OF THIS BUSINESS.
ACCORDING TO YOUR REQUEST, WE WILL TRANSMIT THE FORMULA FOR THE PREPARATION OF SOFT FILM AND NEWS SEPARATELY, TOGETHER WITH (YOUR) MOTHER'S LETTER.
IT IS TOO EARLY TO SEND YOU THE GAMMAS. ENCIPHER SHORT LETTERS, BUT THE LONGER ONES MAKE WITH INSERTIONS. ALL THE DATA ABOUT YOURSELF, PLACE OF WORK, ADDRESS, ETC., MUST NOT BE TRANSMITTED IN ONE CIPHER MESSAGE. TRANSMIT INSERTIONS SEPARATELY.
THE PACKAGE WAS DELIVERED TO YOUR WIFE PERSONALLY. EVERYTHING IS ALL RIGHT WITH THE FAMILY. WE WISH YOU SUCCESS. GREETINGS FROM THE COMRADES. NUMBER 1, 3RD OF DECEMBER.
With Häyhänen's help the FBI were able to arrest Vilyam Genrikhovich Fisher, whose hotel room was full of espionage equipment. He was sentenced to a 30-year prison term in 1957 and exchanged for Francis Gary Powers in 1962.
Both the FBI and the CIA have articles about the case. It's not immediately clear to me how the nickel found its way to the two ladies who'd given it to Jimmy. "Why, we've never seen a hollow coin," they told the FBI, "or, for that matter, even heard of one before."