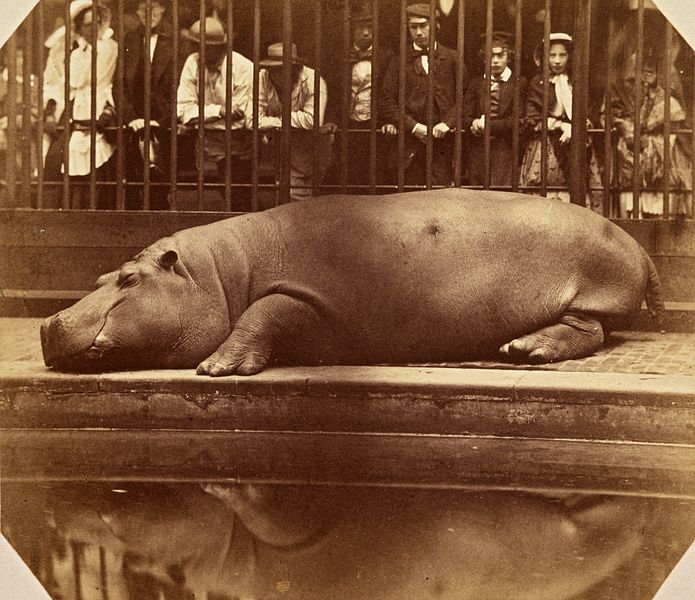 In 1850, England received a distinguished guest: A baby hippopotamus arrived at the London Zoo. Obaysch was an instant celebrity, attracting throngs of visitors while confounding his inexperienced keepers. In this week's episode of the Futility Closet podcast we'll describe his long tenure at the zoo, more than 4,000 miles from his Egyptian home.
We'll also remark on a disappearing signature and puzzle over a hazardous hand sign.
Intro:
In 1969 Rolling Stone invented a fake album with a real fanbase.
In 1990 Terence King invented hand-holding gloves.
Sources for our feature on Obaysch:
John Simons, Obaysch: A Hippopotamus in Victorian London, 2019.
Edgar Williams, Hippopotamus, 2017.
Takashi Ito, London Zoo and the Victorians, 1828-1859, 2014.
Helen Cowie, Exhibiting Animals in Nineteenth-Century Britain: Empathy, Education, Entertainment, 2014.
Hannah Velten, Beastly London: A History of Animals in the City, 2013.
John Toman, Kilvert's World of Wonders: Growing up in Mid-Victorian England, 2013.
Peter Loriol, Famous and Infamous Londoners, 2004.
Wilfrid Blunt, The Ark in the Park, 1976.
Abraham Dee Bartlett, Wild Animals in Captivity: Being an Account of the Habits, Food, Management and Treatment of the Beasts and Birds at the 'Zoo,' with Reminiscences and Anecdotes, 1898.
George C. Bompas, Life of Frank Buckland, 1885.
Clara L. Matéaux, Rambles Round London Town, 1884.
Charles Knight, ed., The English Cyclopaedia, 1867.
Zoological Society of London, The Zoological Gardens: A Description of the Gardens and Menageries of the Royal Zoological Society, 1853.
David William Mitchell, A Popular Guide to the Gardens of the Zoological Society of London, 1852.
Wendy Woodward, "John Simons. Obaysch: A Hippopotamus in Victorian London [review]," Animal Studies Journal 9:1 (2020), 221-223.
Ronald D. Morrison, "Dickens, London Zoo, and 'Household Words,'" Nineteenth-Century Prose 46:1 (Spring 2019), 75-96.
Andrew J. P. Flack, "'The Illustrious Stranger': Hippomania and the Nature of the Exotic," Anthrozoös, 26:1 (2013), 43-59.
S. Mary P. Benbow, "Death and Dying at the Zoo," Journal of Popular Culture 37:3 (February 2004), 379-398.
David M. Schwartz, "Snatching Scientific Secrets From the Hippo's Gaping Jaws," Smithsonian 26:12 (March 1996), 90-102.
Nina J. Root, "Victorian England's Hippomania," Natural History 102:2 (February 1993), 34.
"Madam Hippo's Way," Youth's Companion 73:31 (Aug. 3, 1890).
James Bradley, "The Lessons to Learn Today From a Hippopotamus in the 19th Century," Sydney Morning Herald, June 7, 2019.
"What Are the World's Deadliest Animals?" BBC News, June 15, 2016.
"Rhino Escapes and Bonnets-Stealing Elephants: The Amateurish Early Days of London Zoo Revealed," Telegraph, Jan. 13, 2017.
"At the Zoo," Australian Star, Nov. 28, 1903.
"Wild Animals Captivity," [London] Morning Post, March 14, 1899.
"An Eminent Naturalist," [London] Standard, Feb. 11, 1899.
"A Life in the Zoo," [London] Daily News, May 10, 1897.
"The Hippo and His Habits," Westminster Budget, June 21, 1895.
"Hippo's Farewell," Punch 74 (March 23, 1878), 132.
"Public Amusements," Lloyd's Illustrated Newspaper, March 17, 1878.
"The Old Hippopotamus at the Zoological Society's Gardens Died on Monday Night," Illustrated London News 72:2020 (March 16, 1878).
"Death of a Hippopotamus at the Zoological Gardens," Yorkshire Herald, March 14, 1878.
Listener mail:
Livia Gershon, "Maori May Have Reached Antarctica 1,000 Years Before Europeans," Smithsonian, June 14, 2021.
Priscilla M. Wehi et al., "A Short Scan of Maori Journeys to Antarctica," Journal of the Royal Society of New Zealand, June 6, 2021.
Tess McClure, "New Zealand Maori May Have Been First to Discover Antarctica, Study Suggests," Guardian, June 11, 2021.
"Polynesian History & Origin," Wayfinders: A Pacific Odyssey, PBS (accessed July 15, 2021).
Faye Fiore, "Getting Treated Like Royalty: Fans of Former Prime Minister Thatcher Flock to Her Book Signing," Los Angeles Times, Nov. 13, 1993.
This week's lateral thinking puzzle was contributed by listener Marie Nearing. Here's a corroborating link (warning — this spoils the puzzle).
You can listen using the player above, download this episode directly, or subscribe on Google Podcasts, on Apple Podcasts, or via the RSS feed at https://futilitycloset.libsyn.com/rss.
Please consider becoming a patron of Futility Closet — you can choose the amount you want to pledge, and we've set up some rewards to help thank you for your support. You can also make a one-time donation on the Support Us page of the Futility Closet website.
Many thanks to Doug Ross for the music in this episode.
If you have any questions or comments you can reach us at podcast@futilitycloset.com. Thanks for listening!