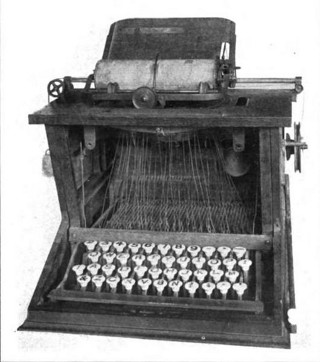 William Dean Howells to Mark Twain, Nov. 5, 1875:
The type-writer came Wednesday night, and is already beginning to have its effect on me. Of course it doesn't work: if I can persuade some of the letters to get up against the ribbon they won't get down again without digital assistance. The treadle refuses to have any part or parcel in the performance; and I don't know how to get the roller to turn with the paper. Nevertheless I have begun several letters to My d ar lemans, as it prefers to spell your respected name, and I don't despair yet of sending you something in its beautiful handwriting–after I've had a man out from the agent's to put it in order. It's fascinating in the meantime, and it wastes my time like an old friend.
E.B. White on the Model T, 1936:
During my association with Model Ts, self-starters were not a prevalent accessory. They were expensive and under suspicion. Your car came equipped with a serviceable crank, and the first thing you learned was how to Get Results. It was a special trick, and until you learned it (usually from another Ford owner, but sometimes by a period of appalling experimentation) you might as well have been winding up an awning. The trick was to leave the ignition switch off, proceed to the animal's head, pull the choke (which was a little wire protruding through the radiator) and give the crank two or three nonchalant upward lifts. Then, whistling as though thinking about something else, you would saunter back to the driver's cabin, turn the ignition on, return to the crank, and this time, catching it on the down stroke, give it a quick spin with plenty of that. If this procedure was followed, the engine almost always responded — first with a few scattered explosions, then with a tumultuous gunfire, which you checked by racing around to the driver's seat and retarding the throttle. Often, if the emergency brake hadn't been pulled all the way back, the car advanced on you the instant the first explosion occurred and you would hold it back by leaning your weight against it. I can still feel my old Ford nuzzling me at the curb, as though looking for an apple in my pocket.