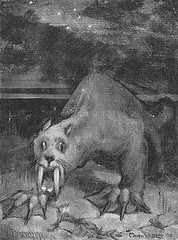 If you visit Australia, beware the bunyip, a bizarre creature with a horse's tail, flippers, and walrus tusks. Bloodcurdling cries can be heard at night as it devours its prey, and it's particularly fond of human women.
Does it really exist? Who knows? Australia's real fauna is so strange that European settlers couldn't tell the difference. In 1846 a peculiar skull was found on the banks of the Murrumbidgee River in New South Wales, and the Sydney Morning Herald reported that "almost everyone became immediately aware that he had heard 'strange sounds' from the lagoons at night, or had seen 'something black' in the water." In the district of Greta, Victoria, residents heard a loud booming sound coming from the local swamp, but search parties found nothing. They finally drained the swamp, and the sound ceased.
Okay, maybe there's no bunyip, but that's the not the end of your worries. Australians also warn of the drop bear, a sort of plunging koala; the hoop snake, which rolls like a wheel after its prey; and the yowie, which is either an ant/lizard or a giant ape. Pack a flashlight.