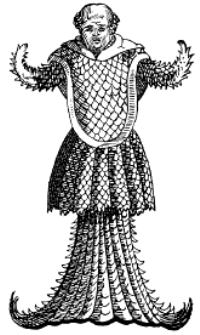 In his Annales, English antiquarian John Stow describes the capture of a sea monster in the shape of a man, in 1187:
"Neere unto Orforde in Suffolke, certaine Fishers of the sea tooke in their nettes a Fish having the shape of a man in all pointes, which Fish was kept by Barlemew de Glanville, Custos of the castle of Orforde, in the same castle, by the space of six monthes, and more, for a wonder: He spake not a word. All manner of meates he gladly did eate, but more greedilie raw fishe, after he had crushed out all the moisture. Oftentimes he was brought to the Church where he showed no tokens of adoration. At length, when he was not well looked to, he stale away to the sea and never after appeared."
The creature was not fish-tailed, but had a bald head, the body of a man, a beard and a very hairy chest. What was it really? A giant squid? A walrus? An angel shark? We'll never know.