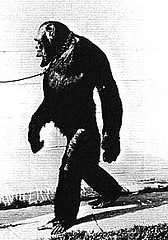 "Man is the noblest work of God!" roared Mark Twain. "Well now, who found that out?"
Consider the case of Oliver the chimpanzee. Oliver liked to stand upright instead of knucklewalking like his peers, and his keepers noticed that his face was flatter than other chimps', who tended to avoid him.
That's all the impetus they needed. Throughout the '70s and '80s Oliver was paraded through a succession of theme parks, zoos and promotions, billed as a missing link or even a "humanzee," or human-chimp hybrid, and confined for seven years in a cage that measured only 7 by 5 feet.
It all came to nothing. In 1996, when Oliver was old, blind, and arthritic, University of Chicago geneticist David Ledbetter checked his chromosomes and discovered he was just an ordinary ape, albeit one who preferred to walk upright.
It's still possible that Oliver belongs to a rare subspecies of chimps who resemble humans … but after that treatment, would he take that as a compliment?