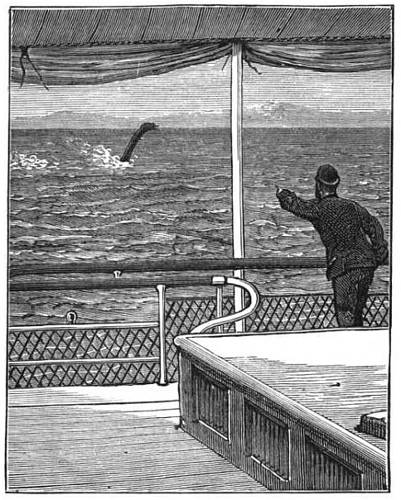 Sea serpent witnessed from the S.S. City of Baltimore in the Gulf of Aden, Jan. 28, 1879. Maj. H.W.I. Senior of the Bengal Staff Corps told the Graphic of "a long black object" "darting rapidly out of the water and splashing in again with a noise distinctly audible." The creature advanced to within 500 yards:
"The head and neck, about two feet in diameter, rose out of the water to a height of about twenty or thirty feet, and the monster opened its jaws wide as it rose, and closed them again as it lowered its head and darted forward for a dive, reappearing almost immediately some hundred yards ahead. The body was not visible at all, and must have been some depth under water. … When the monster had drawn its head sufficiently out of the water, it let itself drop, as it were, like a huge log of wood, prior to darting forward under the water.'"
Senior's statement is countersigned by two other witnesses, including the ship's surgeon.