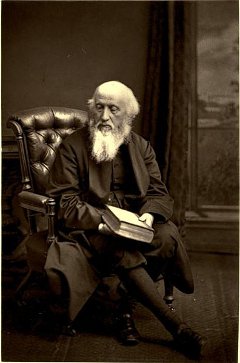 William Barnes (1801-1886) loved language too well. He had written poetry in Standard English from an early age, but in his 30s he switched to the local Dorset dialect, which he felt was more linguistically pure:
Oh! it meäde me a'most teary-ey'd,
An' I vound I a'most could ha' groan'd –
What! so winnèn, an' still cast azide –
What! so lovely, an' not to be own'd;
Oh! a God-gift a-treated wi' scorn
Oh! a child that a squier should own;
An' to zend her awaÿ to be born! –
Aye, to hide her where others be shown!
A philological scholar, he had come to feel that Dorset speech, true to its Anglo-Saxon origins, was the least corrupted form of English, and best suited to paint scenes of rural life. "To write in what some may deem a fast out-wearing speech-form may seem as idle as the writing of one's name in snow on a spring day," he wrote. "I cannot help it. It is my mother tongue, and it is to my mind the only true speech of the life that I draw."
His contemporary admirers included Tennyson, Gerard Manley Hopkins, and Thomas Hardy, but unfortunately he was right: As Standard English increasingly outmoded his beloved dialect, his poems passed into an undeserved obscurity.
"Had he chosen to write solely in familiar English, rather than in the dialect of his native Dorsetshire, every modern anthology would be graced by the verses of William Barnes," wrote Charles Dudley Warner. "By reason of their faithfulness to everyday life and to nature, and by their spontaneity and tenderness, his lyrics, fables, and eclogues appeal to cultivated readers as well as to the rustics whose quaint speech he made his own."