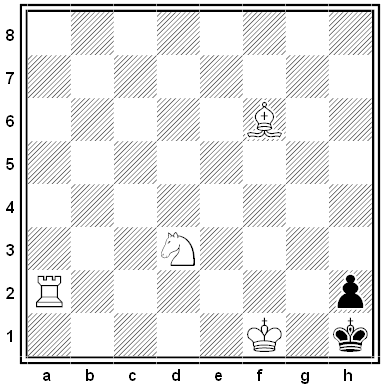 Kriegspiel is a variant of chess in which neither player can see the other's pieces. The two players sit at separate boards, White with the white pieces and Black with the black, and a referee facilitates the game. When a player attempts a move, the referee declares whether it's legal or illegal. If it's legal then it stands; if it's not, the player retracts it and tries again.
This makes for some interesting chess problems. In this example, by Jacques Rotenberg, White knows that there's a black bishop on a dark square, but he doesn't know where it is. How can he mate Black in 8 moves?
This is tricky, because if White captures the bishop by accident, the position is stalemate. Accordingly White must avoid bishop or knight moves to begin with. The answer is to try 1. Rg2. If the referee declares that this is illegal, that means that the black bishop is somewhere on the second rank and it's safe for White to play 1. Nf2, giving mate immediately.
If the referee declares that 1. Rg2 is legal, then the move is made, Black moves his invisible bishop (his king and pawn have no legal moves), and it's White's turn again.
Now White announces 2. Rg8. If the referee says that this is illegal, then the black bishop is on the g-file, and White can safely play 2. Be5. Now if Black captures the bishop, then 3. Nf2 is mate; on any other Black move, 3. Nf2+ followed (if necessary) by 4. Rxh2+ is mate.
If 2. Rg8 is legal, then White plays it, Black again inscrutably moves his bishop, and now White plays 3. Rh8. (There's no danger that he'll capture the black bishop inadvertently on h8, because it cannot have been on g7 on the previous turn.)
Black moves his invisible bishop again and now White plays 4. Rh5 followed by 5. Rb5 (if that's not possible then 5. Rh3 and 6. Be5), 6. Rb1, 7. Nf2+ Bxf2 and 8. Kxf2#. White wins in eight moves at most. In order to travel safely from a2 to b1, the white rook must pass through h8!