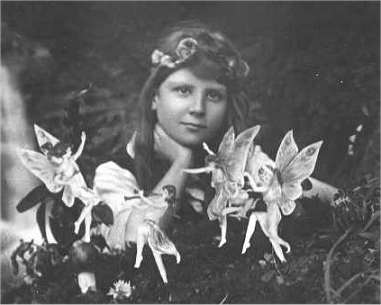 In 1920 two English cousins, Frances Griffiths and Elsie Wright, produced a series of photos that seemed to show them cavorting with fairies and gnomes.
The images were published in The Strand and convinced Arthur Conan Doyle, among others. In The Coming of the Fairies (1922), he wrote: "It is hard for the mind to grasp what the ultimate results may be if we have actually proved the existence upon the surface of this planet of a population which may be as numerous as the human race, which pursues its own strange life in its own strange way, and which is only separated from ourselves by some difference of vibrations."
But see Fairies Unmasked.