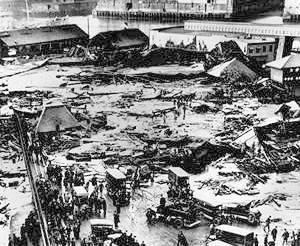 Of sweetness, Shakespeare wrote: "A little more than a little is by much too much." Boston learned this the hard way in the Molasses Disaster of 1919, when someone tried to fill a weak tank with 2.3 million gallons of the thick syrup.
"A muffled roar burst suddenly upon the air," wrote the Boston Herald. "Mingled with the roar was the clangor of steel against steel and the clash of rending wood."
The tank collapsed, sending a giant wave of molasses sweeping through the North End. Even in the January cold, the wave would have been 8 to 15 feet high and traveled at 35 mph. It broke the girders of the elevated railway, lifted a train off its tracks, and tore a firehouse from its foundation. Twenty-one people stickily drowned, and 150 were injured. Cleanup took six months; one victim wasn't found for 11 days.
No one knows the cause, but it's been noted that molasses was used in making liquor, and the disaster occurred one day before Prohibition was ratified. It appears the owners were trying to distill molasses into grain alcohol before the market dried up. Write your own pun.