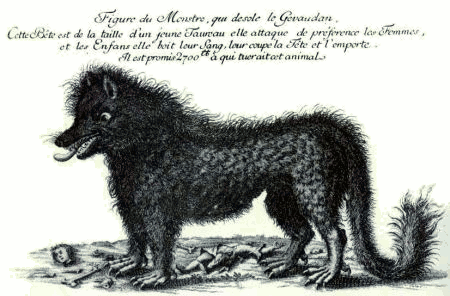 This is the Beast of Gévaudan, a wolf the size of a cow that terrorized southeastern France in the 18th century. All the big press in "cryptozoology" goes to Bigfoot, the Loch Ness Monster, and the Abominable Snowman, but there's a cast of B players that are a lot more colorful:
The Mongolian Death Worm haunts the Gobi Desert, using poison and electrical charges to kill men, horses, and camels. It's said to resemble a four-foot length of cow intestine.
The Great Grey Man of Ben MacDhui lives in Scotland's Cairngorm Mountains. He can appear as a 10-foot humanoid, or he can afflict victims psychically, with overwhelming terror, dark blurs, echoing footsteps, and "an icy feeling."
The Lizard Man of Scape Ore Swamp attacked 17-year-old Chris Davis while he was changing a tire early one South Carolina morning in 1988. Reportedly a series of long scratches were later found on the roof of Davis' car.
The Monkey Man of New Delhi might have had metal claws, or glowing eyes, or a helmet, or green lights on its chest, or it might have been a remote-controlled robot. Whatever it was, it was mad. Between May 14 and May 17, 2001, Delhi police fielded more than 40 reports of attacks around the city.
The most lyrically named "cryptid" is the Clutchbone, a seven-foot leathery monster that roamed Europe in the 1800s, burning and dismembering its victims. It had a lit torch in place of a head.
My favorite, though, is the New Jersey Vegetable Monster: A single drunken witness claimed to have seen a humanoid resembling a giant stalk of broccoli in the New Jersey Pine Barrens. "Likely attributable to a case of delirium tremens."