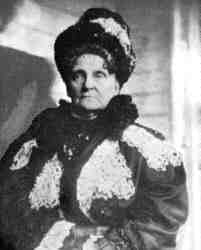 If Ebenezer Scrooge were a woman, he'd look like this. Hetty Green (1834-1916) amassed more than $100 million as a shrewd businesswoman, but today she's remembered mostly for her breathtaking stinginess.
Born into a Massachusetts whaling family, Hetty was reading financial papers to her father at age 6 and keeping the family books at 13. She inherited $7.5 million on her father's death, and reportedly married only to keep her relatives at bay (she made her fiance sign a prenup). When her husband divorced her and then died, she moved to Hoboken and basically went nuts.
Legends say she never heated her house or used hot water; that she wore one old black dress; that she rode in an old carriage. Rather than pay rent, she sat on the floor of New York's Seaboard National Bank and ate only oatmeal heated on the office radiator, and she would travel thousands of miles to collect a debt of a few hundred dollars.
Almost no expense was worthwhile. Her son's leg had to be amputated when she tried to treat him at home. She herself refused treatment for a hernia because it cost $150.
When she died, at age 80, she may have been the richest woman in the world. Unfortunately, you can't take it with you.