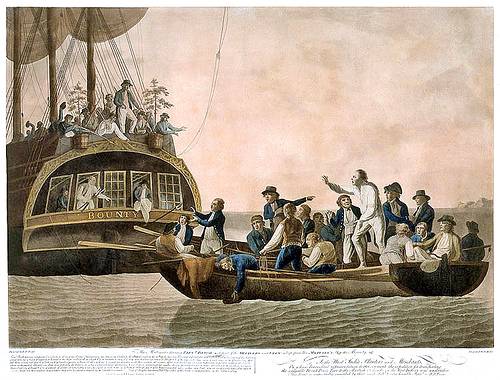 The mutiny on the Bounty is a landmark of sea law, but it also has a curious linguistic sequel. After setting Captain Bligh adrift, Fletcher Christian fled to Pitcairn Island in the South Pacific. With him were eight other crewmen, six Tahitian men, and 11 women. In order to understand each other, they developed a creole mix of English and Tahitian known as "Pitcairnese":
| | |
| --- | --- |
| English | Pitkern |
| How are you? | Whata way ye? |
| Where are you going? | About ye gwen? |
| Are you going to cook dinner? | You gwen whihi up suppa? |
| Would you like some food? | Ye like-a sum whettles? |
| I don't think so | I nor believe |
| It doesn't matter | Do' mine |
The mutineers were a diverse lot, with origins from Scotland to the West Indies, so the mix is a linguistic hodgepodge. For instance, "whettles," above, meaning food, is a throwback to the Old English victuals.