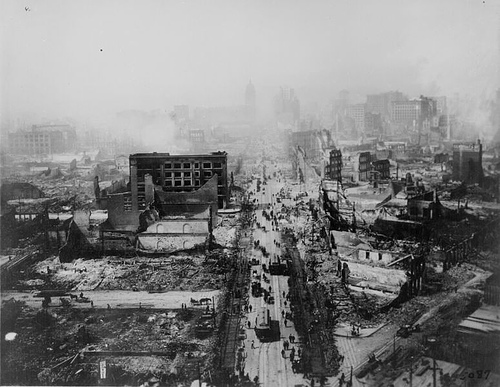 San Francisco reporter James Hopper got to bed at 3 a.m. on April 18, 1906, after a night at the opera. After two hours of sleep he felt himself suddenly shaken "like a fish in a frying-pan":
I got up and walked to the window. I started to open it, but the pane obligingly fell outward and I poked my head out, the floor like a geyser beneath my feet. Then I heard the roar of bricks coming down in cataracts and the groaning of twisted girders all over the city, and at the same time I saw the moon, a calm, pale crescent in the green sky of dawn. Below it the skeleton frame of an unfinished sky-scraper was swaying from side to side with a swing as exaggerated and absurd as that of a palm in a stage tempest.

Just then the quake, with a sound as of a snarl, rose to its climax of rage, and the back wall of my building for three stories above me fell. I saw the mass pass across my vision swift as a shadow. It struck some little wooden houses in the alley below. I saw them crash in like emptied eggs and the bricks pass through the roof as through tissue paper.

The vibrations ceased and I began to dress. Then I noted the great silence. Throughout the long quaking, in this great house full of people I had not heard a cry, not a sound, not a sob, not a whisper. And now, when the roar of crumbling buildings was over and only a brick was falling here and there like the trickle of a spent rain, this silence continued, and it was an awful thing. But now in the alley someone began to groan. It was a woman's groan, soft and low.
Jacob Levinson, a director of Fireman's Fund, weathered the quake with his family at 2420 Pacific Avenue. He wrote later, "I am frequently asked whether I was badly frightened by the shaking, to which I invariably reply that I had passed the point of being frightened, exactly as one might on a sinking vessel in mid-ocean when fully alive to the inevitable. My only thought was to get the family together so that when the house went down we should all go together."